The 29th edition of the Spring Warm Up & Swap Meet returns April 7-8.  A staple on the Firebird racing calendar for nearly three decades, the event features an automotive swap meet and full day of testing on the dragstrip.
Friday is traditionally set-up day for all the vendors (or early Saturday morning) and early bird racer pit parking. The main day for the Spring Automotive Swap Meet is Saturday.
Online registration for vendor space, racer test entry or an event pass can now be secured for this annual tradition at Firebird.
TEST CARD
Open day for Testing, Grudge racing and Licensing.
This event is open to race teams planning to run dragsters, roadsters, cars, trucks, sport compacts, bikes and sleds. (Testing not available at this particular event for Jr. Dragster or Jr. Street).
Adults: $13 in advance ($15 day of event)
Senior (over 65): $10 in advance ($12 day of event)
Ages 6-12: $5
Ages 5 & under: Free
Online Test, Grudge or Licensing tech card: $35 ($45 day of event)
Online annual permanent number/license card: $10
Online 10' x 20' spot: $35 ($40 day of event)
Vendor registration (along with buyer, racer and crew entry fees) are only available online. Idaho State ST-124 form is required for all vendors. Forms will be available at check in (at front gates).
SCHEDULE
Friday, April 7
Swap Set-Up, Early Bird Space Assignment and Racer Parking: 10 am*
Closes: 7 pm
* note: gates may open earlier Friday should line up of trailers reach highway.
Saturday, April 8
Race and Swap Meet Vendor Gates Open: 7:30 am
Swap Meet Buyer Gates Open: 9 am
Testing (in sessions): 11 am
Swap Meet continues till: late afternoon
Concludes: 5 pm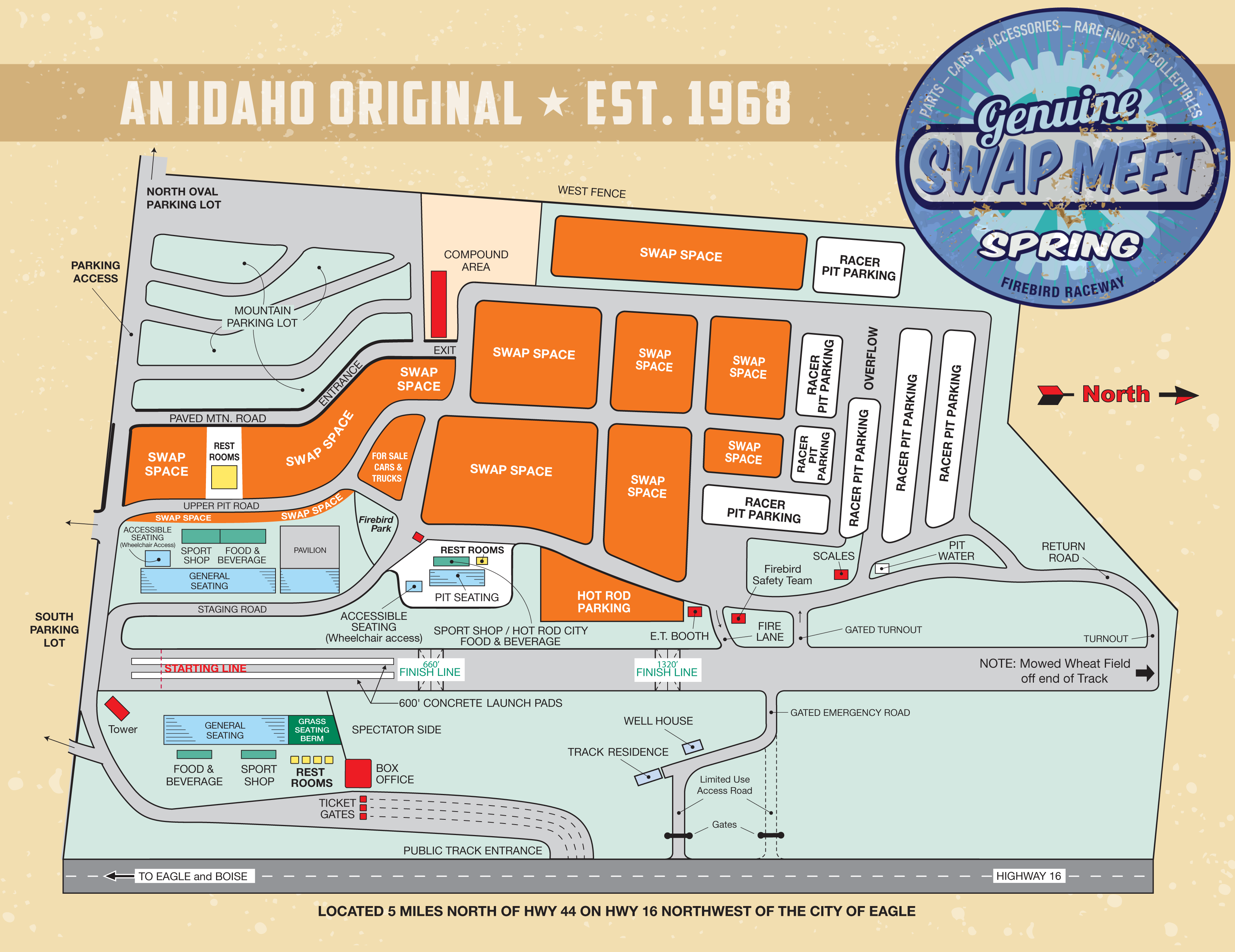 Make your plans today to be a part of one of the most popular automotive events in the greater Treasure Valley.