The 47th Annual O'Reilly Auto Parts Boise Roadster Show returns to Expo Idaho over the weekend of  March 8-10. Presented by Les Schwab Tires, the show will feature many of the top competitors traveling to Western Idaho from throughout the United States and Canada.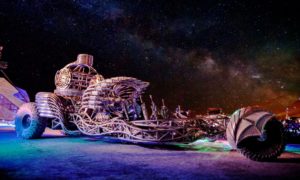 You would swear that Henry Chang's latest masterpiece could come straight from outer space. His newest creation, which is recognized as the "Valyrian Steel" tubular car was inspired by Henry's favorite t.v. show, "Game of Thrones". It is literally a working piece of automotive art that is a sight-to-behold up close and in person. Stretching more than 27 feet long, the stainless-steel masterpiece has better than 2,000 man hours of work and seats 5 people. At the tail end of the vehicle is a kinetic sculpture with gears that turn in response to a hand crank, largely emulating a tourbillon, an 18th century mechanism that allows a watch to operate and keep time. Photo credit: Phantomography.com.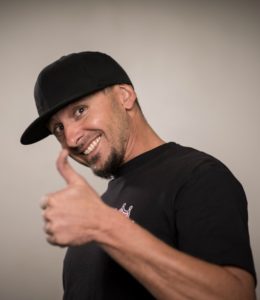 By special arrangement, we look forward to having one of the stars of the hit Motor Trend t.v. show Bitchin' Rides, KevDogg attend this year's Roadster Show. Kevin Schiele will be visiting with fans, signing autographs and taking photos. One of the lead builders for Kindig It Design, Kevin will be at the show on Sat., March 9.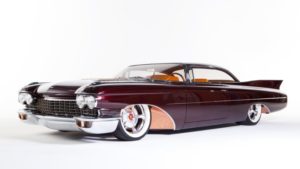 One of the most fascinating custom cars built, the "Copper Caddy" will be participating at this year's Roadster Show. Owned by Jerry Logan, the heavily customized 1960 Cadillac was built by the crew at Kindig-It Design on the hit t.v. show Bitchin' Rides on the Motor Trend network. Chopped four inches by the legendary Gene Winfield then perfected by Dave Kindig, KevDogg and crew, the Cadillac won the King of the Customs title in both Sacramento and the Portland Roadster Show.  Photo credit: Jon Glover.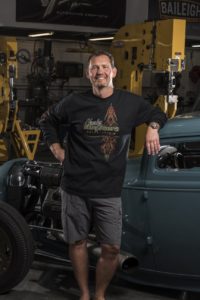 One of the premier builders in the country, Charley Hutton will be a special guest of honor at this year's Roadster Show. Thanks to our friends at the Willys Garage, Charley will be at the show signing autographs and visiting with fans throughout the weekend. Based in Nampa, Charley has been involved in the automotive industry since he was just a young lad.
He has been indirectly linked to a wide variety of builds including past champions of America's Most Beautiful Roadster (in Pomona, Calif.) and the Ridler award (Detroit, Mich.), among many other top-quality rides. He also worked for a period of time for the late Boyd Coddington when they were building cars on the hit t.v. show on The Learning Channel called American Hot Rod. He will help unveil one of his more recent projects, a knockout `32 Ford highboy roadster of long-time hot rodder Bill Williams from West Valley City, Utah. Photo credit: NotStock Photography.
Every entry that participates in the show will win an award. The top prize of the Roadster Show is known coast-to-coast as the Goldmark. The Goldmark will go to the one entry deemed "Best of the Best'. The grand prize is $2,000 in cash, along with an embroidered jacket and special award statue. The "Essence of Cool", Trendsetter, Wild One, Fire Rod, Mighty Fine and Tompkins Cup are additional special awards.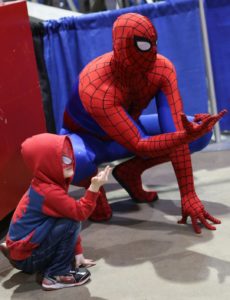 We are very excited to have Spider-man make a special guest appearance on both Saturday and Sunday of the Roadster Show weekend thanks to Marvel Comics. The recently released Spider-Man: Far From Home motion picture was a block buster at the box office. Photo credit: rockindogphotos.com.
A tradition at the Roadster Show every March, the New family will induct an honoree for the Master-Builder award, too. This plaque is presented to a person who has helped to positively influence, shape and make the Roadster Show a better event over the years.
Don't miss Friday Night, March 8th, when the Miss Roadster Show Swimsuit Pageant presented by Eagle-96.9FM takes center-stage. The pageant offers a $1,000 cash prize pool and a shoot in the Motorsports Annual. The pageant will get underway at 8 pm.
We encourage families to stop by region-wide Stinker Stores to capture a discount coupons for Sunday Family Day (March 10th) presented by Idaho's News Channel 7.
Show Hours:
Friday Noon – 10 pm
Saturday 10 am – 10 pm
Sunday 10 am – 5 pm
Admission:
Adults: $12
6-12: $4
5 & Under: Free
Expo Idaho is located at 5610 Glenwood at the corner of Chinden Blvd. and Glenwood in Boise.