Firebird will play host to the opening stop in the Division 6 Lucas Oil Drag Race Series on May 20-22.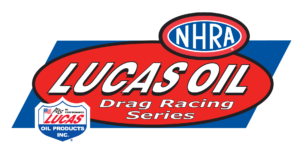 Firebird's first NHRA World Championship Series meet took place in 1969. Inaugural Northwest Division champions included Dick Kalivoda (Top Fuel), Austin & Grassi (Top Gas), Bill Landon (Super Eliminator), Ringer & Souders (Comp), Bill Ireland (Super Stock), and Virgin & Taccogno (Stock).
The point's meet will help jump start the popular Northwest Division series. The race will showcase racing in Comp, Super Stock, Stock, Top Dragster, Top Sportsman, Super Comp, Super Gas, Super Street, Sportsman Motorcycle, Super Pro, Pro and Heavy.
We look forward to having you join us in May.
RACERS:
SPECTATORS:
---
2022 Division 6 Racer Registration (save by purchasing online)
Division 6 LODRS Racer Entry: advance online purchase: $180, day of event: $195, save $15.00
Super Pro or Pro Racer Entry: advance online purchase: $125, day of the event: $140, save $15.00
Heavy Racer Entry: advance online purchase: $95, day of the event: $110, save $15.00
Thursday Test Card: advance online purchase: $60, day of the event: $80, save $20.00
Adult Crew Pass: advance online purchase: $60, day of the event: $70, save $10.00
Friday Box Gambler race: $100 online, day of the event $110, save $10.00
Friday No Box Gambler race: $50 online, day of the event $60, save $10.00
$5K to Win Saturday race: $200 online, day of the event $210, save $10.00
Saturday Sled/Bike Gambler race: $50 online, day of the event $60, save $10.00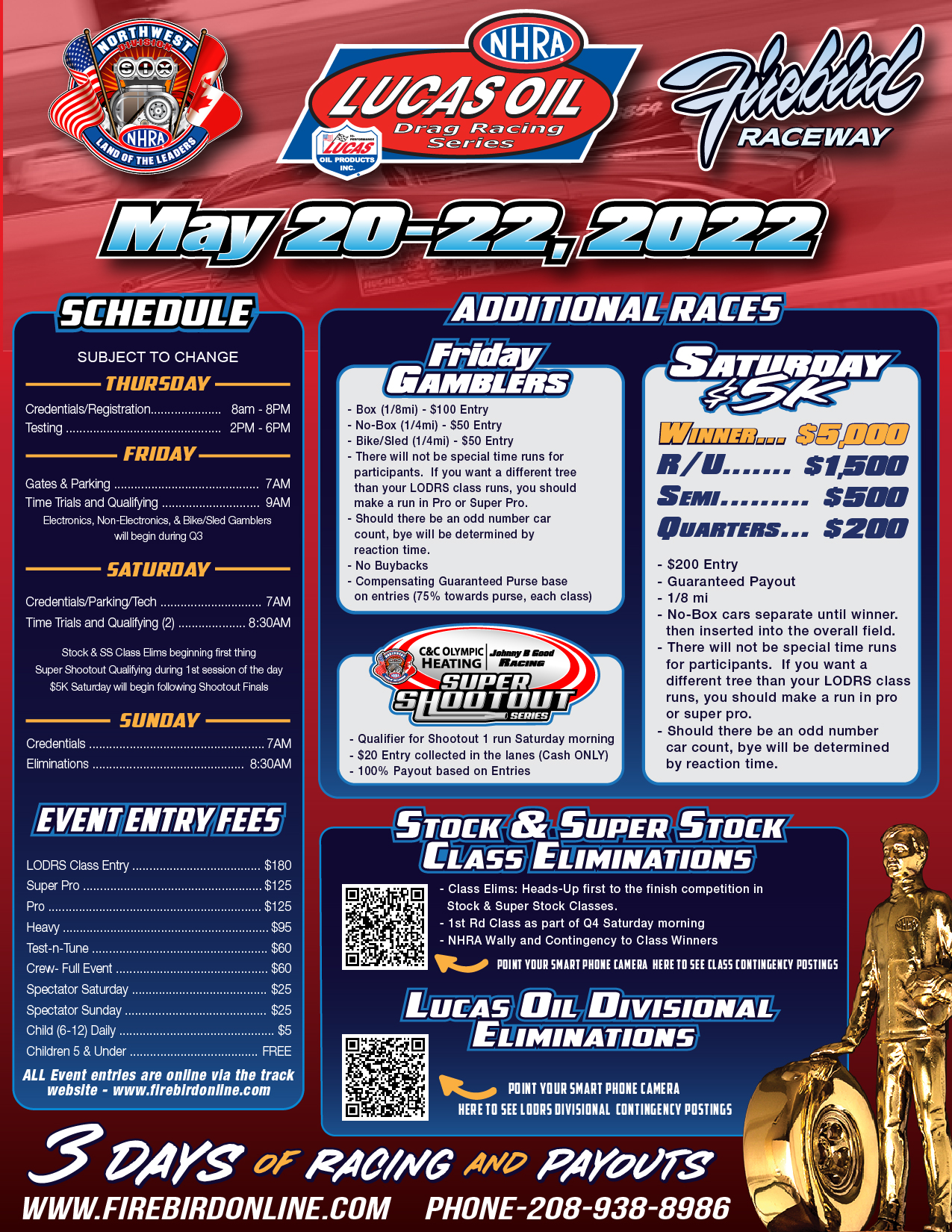 ---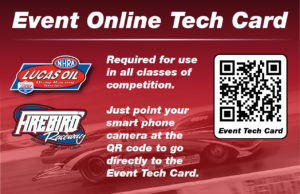 Link to the ONLINE TECH CARD
---
2022 Division 6 Lucas Oil Drag Race Series
Schedule of Events:
Wed., May 18
Open exclusively to pre-registered team (on theFoat.com)
Early Bird Pit Parking: 1 -6 pm
Thurs., May 19
Event Parking: 8 am-6 pm
Test `n Tune: 1 pm
Fri., May 20
Parking: 8 am
Time trials, qualifying: 9 am
Box/No Box Gamblers: 3:30 pm
Sat., May 21
Opens: 8 am
Time trials/Qualifying: 8:30 am
Box/No Box Gamblers: 3:30 pm
Sun., May 22
Opens: 8 am
Eliminations: 9 am
Concludes: 4 pm
---
Defending Lucas Oil Drag Race Series and Boise Muffler/NAPA Auto Parts Gold Cup champions include:
Competition
Ryan Warter
Super Stock
Christopher Cour
Stock
Jesse Sanderson
Super Comp
James Glenn
Super Gas
Eddie Olpin
Super Street
Sean Shaffer
Top Dragster
Jake Neibauer
Top Sportsman
Jake Neibauer
Sportsman Motorcycle
Lonnie Woodruff
Super Pro
Aly Clark
Pro
Richard Rush
Heavy
Tyler Rush
Gambler (Friday)
Rayce Kidd (Box), Mick Alley (No Box), Jacob Wood (Sled/Bike)