The incredible NAPA Auto Parts Halloween Classic XXVIII presented by Mirage Trailers is set for five days and nights: October 6-10.

No other event all season long matches the sheer volume and quantity of racing that takes place during the last major racing stop of the season. Full of all kinds of surprises, the Halloween Classic has become one of Firebird's grandest happenings.
We can't wait for the return of trick or treating to kid's games, along with all the other fun and activities planned for Classic XXVIII. If you can only attend one day of the event, Saturday is the big day! We will offer games for the kids, a kid's costume contest, pumpkin carving, coloring contest, and trick or treating from trailer to trailer thru the pit area. Adults will get an opportunity to show off their costumes (contest) following the conclusion of the Air Show on Sat. night.
The Club Challenge Runoffs will take place Wednesday evening. The wild Air Firebird Wheelstanding super show returns center-stage on Saturday night. The event will also crown a Classic Grand Champion, which will pit the major eliminator winners at day's end Sunday.
The Lucas Oil Top Gun Shootout returns, too. The fastest open wheelers will square off with the quickest full bodied rides.
CLASSES
Super Pro
Pro
Heavy
Sled/Bike
Sportsman
Lucas Oil Top Gun Shootout
Junior Dragster
Bonus Races (throughout the event)
RACE FEES
To make it convenient for racers, crew and families that would like to participate, Classic registration (click on link) is available online. Racers may purchase credentials upon arrival at the gates (from Wed. thru Sat).
ADMISSION
Saturday: Adult Pit-Side: $15 / Child: $5
Sunday: Adult Pit-Side: $15 / Child: $5
Full Event Super Pass: $75-good for the entire event with pit-side access
Child Super Pass: $25
Spectator Camping: $50 (Full Event Super Pass for each person attending required with your camping permit)
General Parking: Free
Event Schedule:
TUESDAY
Open to Pre-Entered Teams exclusively starting no later than: Noon
Pre-Entry Parking – please note that gates may open earlier should trailers reach highway on the entrance road
Tech Inspection: throughout the day
Corn Hole Classic Contest (24 teams): 6 pm
Credentials and Gates close: 8 pm
WEDNESDAY
Opens at 8am for all Pre- and Post (gate) entries
Test `N Tune Runs & Club Runoffs
Tech Inspection: throughout the day
Test Card: 10 am – early evening
Club Runoffs (racers pre-qualified during Club Challenge Series): 3 pm
Gates close: 8 pm
THURSDAY
Bonus Races Begin!
Opens: 8 am
Time Trial begins at: 9 am
Bonus Race Eliminations: 1:30 pm
Lucas Oil Top Gun Qualifying (2): End of First Time
Trial Session and a second qualifier at 3 pm
Gates close: 8 pm
FRIDAY
Token Joke Night!
Opens: 8 am
Time Trials: 8:30 am
(exclusively for Classic drivers only, with no previous runs at event)
Bonus Race Eliminations: 9:30 am
Lucas Oil Top Gun Final Qualifying: 3 pm
Gates close: 8 pm
SATURDAY
Air Firebird Wheelstanding Night!
Opens: 8 am
Time Trials for all Racers (starting w/SM, then JT & JL): 8:30 am
Lucas Oil Top Gun First Round of Eliminations: 12:30 pm
Top Gun Second Round: 2:30 pm
Start of Classic Eliminations (PRO, SUPER PRO, HEAVY, SPORTSMAN): 3:15 pm
Kid's Halloween Party/Games: 4 pm-6 pm
Kid's Costume Party: 6 pm
Trick or Treating: 7:15 pm
Start of Chili Feed: 7:15 pm
Air Firebird Wheelstanding Contest: 8:15 pm
Adult Costume Party: 9:30 pm
SUNDAY
Survivor's Day!
Opens: 8 am
Eliminations continues starting with round two of Sportsman at 8:30 am
No Time Trials on Sunday—it's all racing
Junior Eliminations (2nd Day): 9:15 am
The CLASSIC Marathon (eliminations) continue: 10 am
Announcement of the Best of Show award winners: Noon
Last Chance Race: Following conclusion of First Round of Racing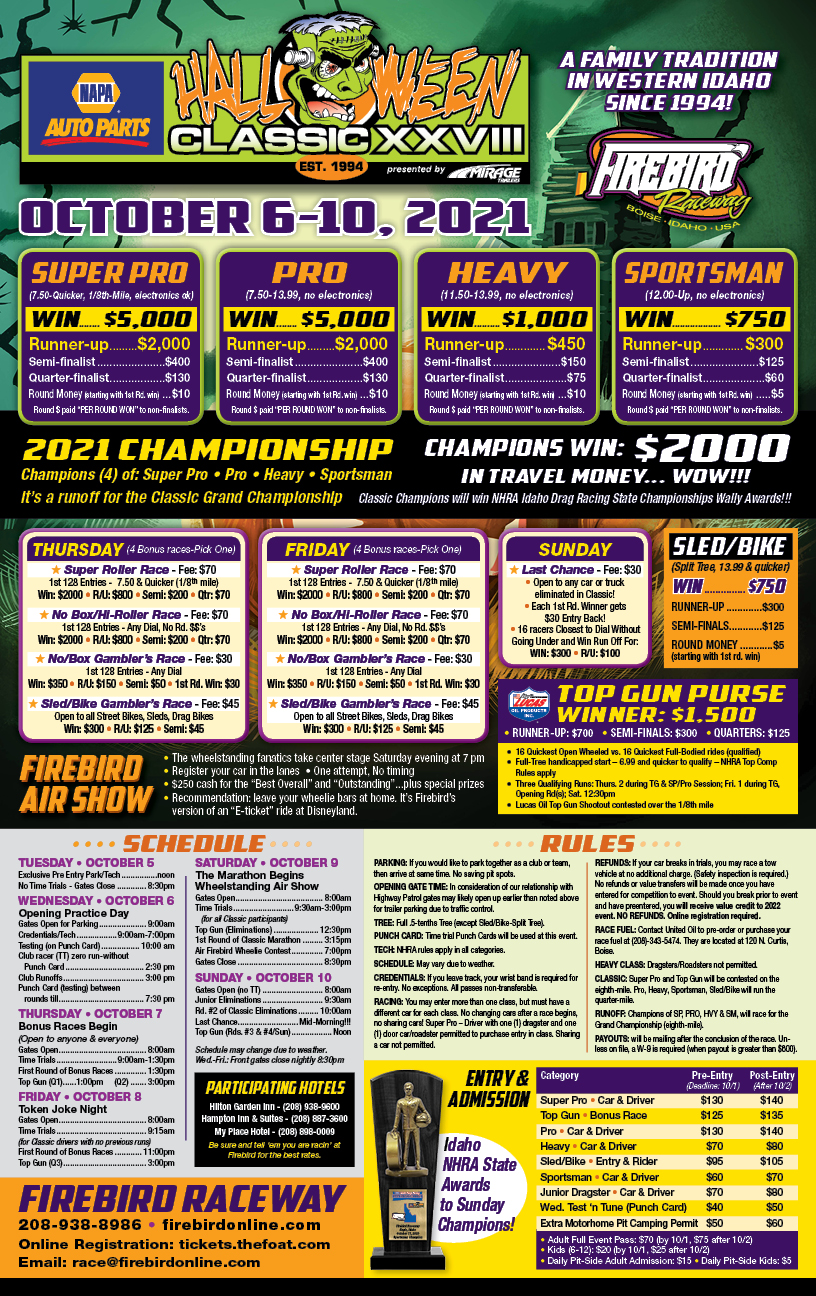 SPORTSMAN RACER TECH CARD
TECH CARD: As a convenience to both you and Firebird's tech team, please completely fill out the .pdf form on your computer (click on hyperlink above, both sides) and print. Please bring printed copy to this event to expedite the inspection process.
---
Defending Classic champions (2020) include:
Classic Grand Champion/Super Pro
Robert Glembocki
Pro
Travis Bowins
Heavy
Stanley Ortel Jr.
Sportsman
Mike Smith
Sled/Bike
Larry Mota
Lucas Oil Top Gun Shootout Champion/Full Bodied
Chad Riley
Lucas Oil Top Gun Shootout/Open Wheel
Chris Barton
Super Roller
Chris Hall/Jason Thomas
No Box Hi Roller
Courtney Alley/Pierson Deming
No Box/Gambler
Ashton Davis/Mike Ritz
Sled/Bike Gambler
Mike Cragun/Jacob Wood
Air Firebird Wheelstanding Champions
Jackie Alley/Gary Bullington
Club Grand Champion
Mark McDonald
Junior Dragster-Saturday
Gracie Erickson/Camryn Stocker/Summer Field/Tanner Gaetz/Austin Breitkreuz
Junior Lightning
Dylanie Petersohn
Junior Thunder
Dayne Peralta
Last Chance
Steve Lambert
Special Award Plaques (2020)
Best Decorated Pit Area: Linda Panunzio, Glembocki family, DePeel family
Best Decorated Race Car: Ashton Davis, Shane Ryan, Makenna White & Paul Wallace
Staff Costume Contest winners: Jason Humphries, Weston Nichols, Tammy & Sarah, Bryan Smith, Misty Kramer
Bader Family Founder's Award: Asbury, Hodson, Riley & other Yakima/Tri-Cities race teams
In the event of inclement weather, updates will be available on this site and on our Facebook page.