The incredible NAPA Auto Parts Halloween Classic XXIX presented by Mirage Trailers is set for five days and nights: October 5-9.

No other event all season long matches the sheer volume and quantity of racing that takes place during the last major racing stop of the season. Full of all kinds of surprises, the Halloween Classic has become one of Firebird's grandest happenings.
We can't wait for the return of trick or treating to kid's games, along with all the other fun and activities planned for Classic XXIX. If you can only attend one day of the event, Saturday (10/8) is the big day! We will offer games for the kids, a kid's costume contest, pumpkin carving, coloring contest, and trick or treating from trailer to trailer thru the pit area. Adults will get an opportunity to show off their costumes (contest) following the conclusion of the Air Show on Sat. night.
The Club Challenge Runoffs will take place Wednesday afternoon. The wild Air Firebird Wheelstanding super show returns center-stage on Saturday evening. The event will also crown a Classic Grand Champion, which will pit the major eliminator winners at day's end Sunday.
The Lucas Oil Top Gun Shootout returns, too. The fastest open wheelers will square off with the quickest full bodied rides.
Online registration (for entries, crew passes, tickets, etc.) is now live for the Classic, so don't wait to secure your spot in Classic XXIX!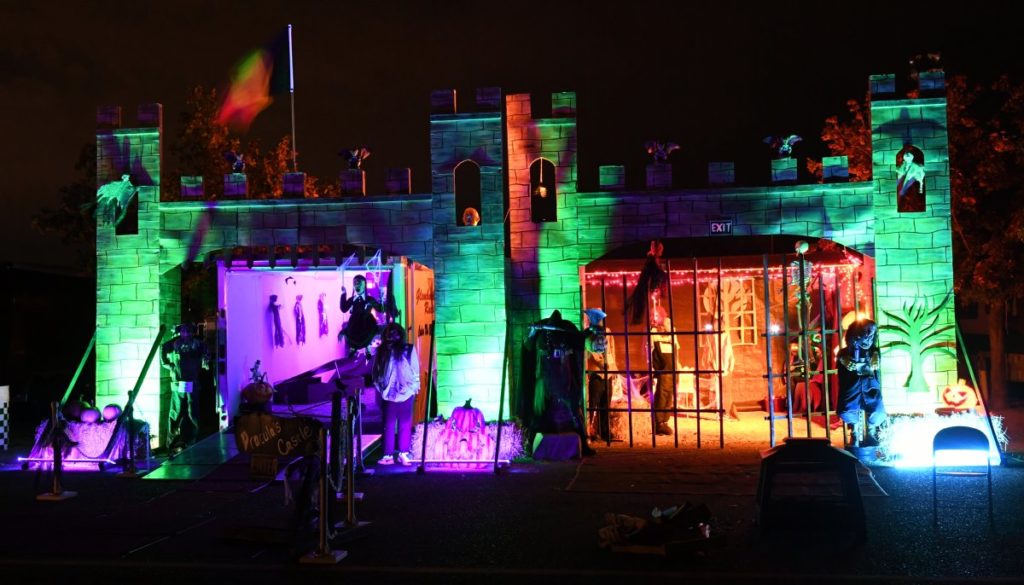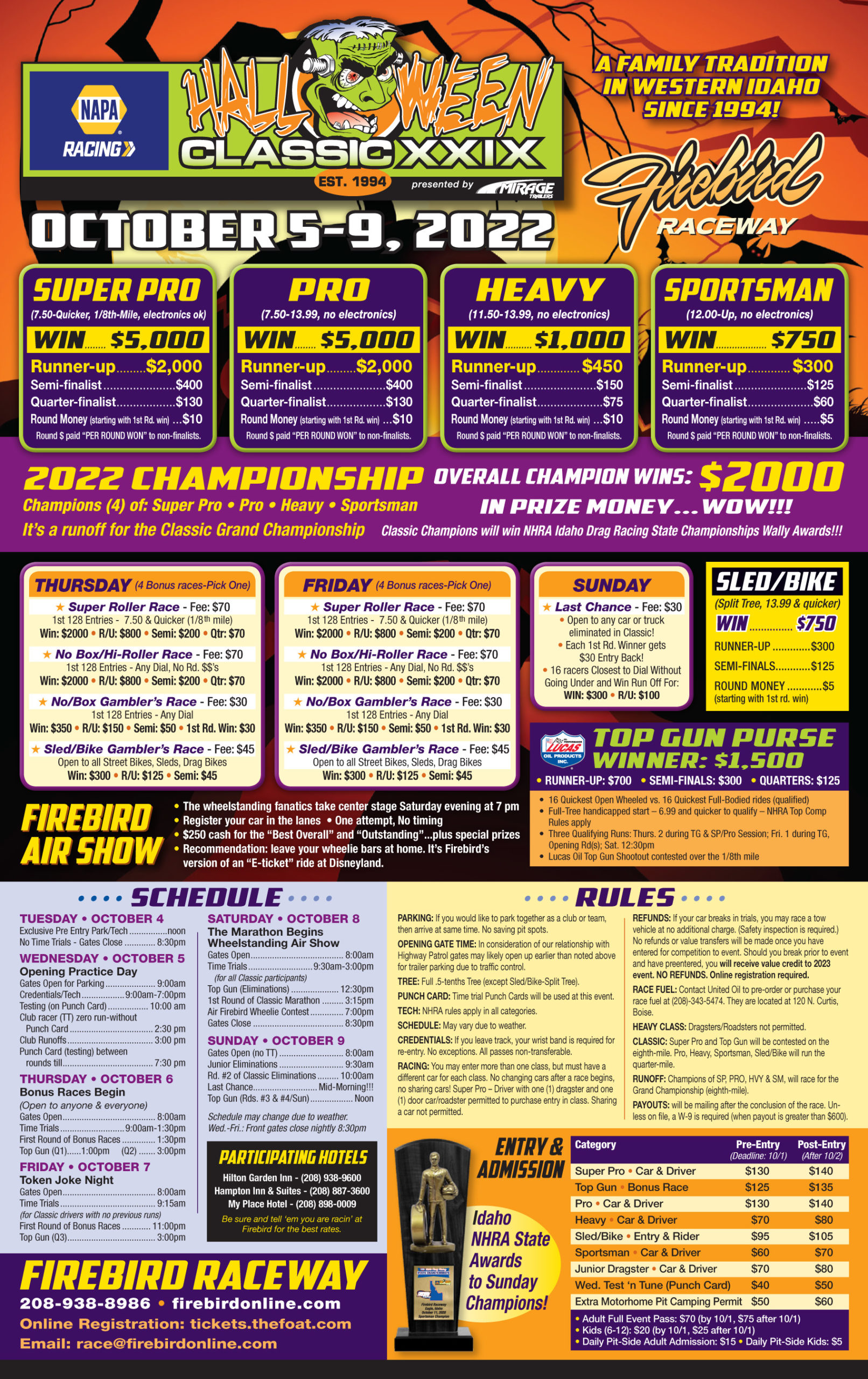 ---
CLASSES
Super Pro
Pro
Heavy
Sled/Bike
Sportsman
Lucas Oil Top Gun Shootout
Junior Dragster
Assortment of Bonus Races
RACE FEES
Online registration (link) now available. Or you can also post-enter the event starting on Wednesday. New race entries will also be accepted on Thurs., Fri., and Sat.
Saturday Spectator Ticket: Adult Pit-Side: $20 / Child: $5
Sunday Spectator Ticket: Adult Pit-Side: $15 / Child: $5
Spectator Super Pass (at gates): $70-good for the entire event with pit-side access
Child Super Pass: $20
Spectator Camping (or extra RV/Trailer) Pemit: $50 (a Spectator Super Pass per person attending is required)
General Parking: Free
Event Schedule:
TUESDAY
Open to Pre-Entered Teams exclusively
Pre-Entry Parking: Noon (please note: or earlier should trailers reach highway on entrance road)
Tech Inspection: throughout the day
Corn Hole Classic competition 6 pm
Credentials and Gates close: 8 pm
WEDNESDAY
Opens: 8 am (please note: or earlier should trailers reach highway on entrance road)Tech Inspection: throughout the day
Open to Pre- and Post Entries from Wednesday thru Sunday
Test `N Tune Runs & Club Runoffs
Test `n Tune Runs: 10 am – 7 pm
Club Runoffs (racers pre-qualified during Club Challenge Series): 3 pm
Gates close: 8 pm
THURSDAY
Bonus Races Begin!
Opens: 8 am
Time Trial begins at: 9 am
Bonus Race Eliminations: 1 pm (No Box/Gambler, No Box/Hi Roller, Super Roller, Sled/Bike Gambler)
Lucas Oil Top Gun Qualifying (Q1): End of First Time Trial
Lucas Oil To Gun Qualifying (Q2): 3 pm
Gates close: 8 pm
FRIDAY
Token Joke Night!
Opens: 8 am
Time Trial: 9 am
(Exclusively for Classic drivers with no previous runs at event)
Bonus Race Eliminations: 9:30 am (No Box/Gambler, No Box/Hi Roller, Super Roller, Sled/Bike Gambler)
Lucas Oil Top Gun Final Qualifying: 3 pm
Gates close: 8 pm
SATURDAY
Air Firebird Wheelstanding Night!
Opens: 8 am
Time Trials for all Racers (starting w/SM, then JT & JL): 9 am
Lucas Oil Top Gun First Round (E1): 12:30 pm
Top Gun Second Round (E2): 2:30 pm
Start of Classic Eliminations (order: Pro, Sled/Bike, Super Pro, Heavy, Sportsman): 3:15 pm
Hayrides: 2:30 pm
Kid's Halloween Party/Games: 4 pm-6:15 pm
Kid's Costume Party: 6:30 pm
Trick or Treating: 7:15 pm
Start of Chili Feed: 7 pm
Air Firebird Wheelstanding Contest: 8 pm
Adult Costume Party: 9 pm
SUNDAY
Survivor's Day!
Opens: 8 am
Eliminations continues starting with round two of Sportsman at 8:30 am
No Time Trials on Sunday—it's all racing
Junior Eliminations (2nd Day): 9:15 am
The CLASSIC Marathon (eliminations) continue: 10 am
Announcement of the Best of Show award winners: Noon
Last Chance Race: Following conclusion of First Round of Racing
---
Defending Classic champions include:
Classic Grand Champion/Pro
Andy Schmall
Super Pro
Rob Asbury
Heavy
Dave Austin
Sportsman
Ed Wong
Sled/Bike
Kelly Queensberry
Lucas Oil Top Gun Shootout Champion/Open Wheel
Sean Shaffer
Lucas Oil Top Gun Shootout/Full Bodied
Todd Fricke
Super Roller
Shonette Benson
No Box Hi Roller
Courtney Alley
No Box/Gambler
Corey Scrima
Sled/Bike Gambler
Mike Cragun
Air Firebird Wheelstanding Champions
Mick Alley/Jim Tattersall
Club Grand Champion
Mark McDonald
Junior Dragster-Saturday
Kennedy Vizcarra/Kaydon Franson/Kort Hollbrook/Braxton Bann/Colten Bullington/Casey Youngstrom/Journey Morrell
Junior Lightning
Logan Scrivner
Junior Thunder
Jaelynn Willis
Last Chance
Kevin Johnson
Sled/Bike Gambler
Mo Rider
Special Award Winners
Best Decorated Pit Area: Linda Panunzio, Glembocki family, Kuna Knuckle Draggers
Best Decorated Race Car: Kristi Shawver, Cassandra Jensen, Manny "Sub-Zero" Garcia, Shahalie Peters
Best Appearing Door Car
Rob Asbury
Best Appearing Roadster/Altered
Valerie Jo Hodson
Best Appeared Open Wheel
Shannon Boepple
Best Appeared Junior Dragster
Courtney & Hailey Dubach
Best Appearing Bike/Sled
Kelly Queensberry
Staff Costume Contest winners: Jason Humphries, Weston Nichols, Bryan Smith, Della Courtenay, Rick Wiseman, Kyle Wilcox
Costume Contest (Adults)
Scariest – Joe, Debbie & Rachel Hopper (Predators), Couples – Tyler & Amber Rush (Shining Twins), Most Original – Cracked Block (Mario Kart), Sexiest – Lindsay Judy (101 Dalmations). Honorable Mentions – Day, Phelps, Baron's Racing Club (Wizard of Oz), Ashley Iffland (Police Officer).
Costume Contest (Kids)
Funniest – Sonja Perry (Pickle, age 7) and Shyenne (age 10), Prettiest – Eviah (age 1.5), Brooklyn (Rapunzle, age 4) and Addy (Queen of Hearts, age 6), Scariest – Anaia Lopez (Bride, age 7) and Tanner (Scary Clown, age 4), Most Original – Bryker (age 5) and Lacey Watters, Copelin Marcum (age 4).
Bader Family Founder's Award: Day, Phelps and family members with the Baron's racing club
In the event of inclement weather, updates will be available on this site and on our Facebook page.