The Fall Automotive Swap Meet & Drag Races presented by eBay Motors returns to Firebird on Saturday, September 25.

This event is open to all automotive related items (new, used, barn fresh, you name it). You can sell your car, your truck, your parts, your collectibles and more.
Register online today for vendor space, buyer's pass, racer tech card, crew passes and more.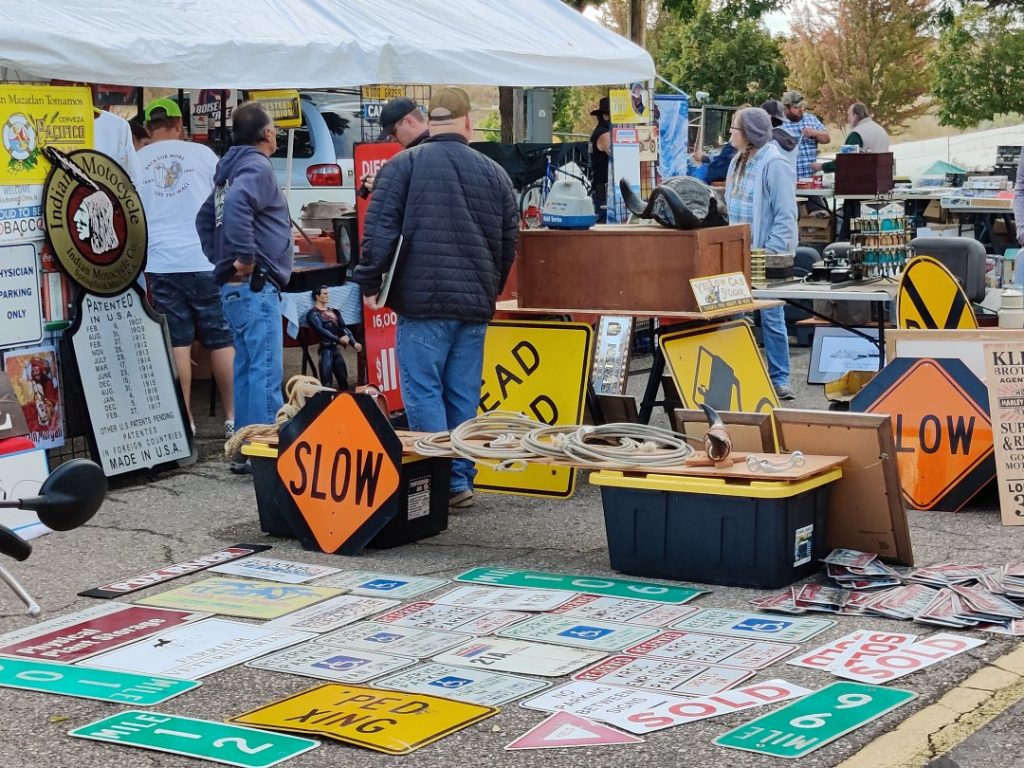 ---
In addition to the Fall Swap, a full day of high-powered Drag Race action will be contested, too. Drag race classes include: Super Pro, Pro, Sled/Bike, Sportsman, Pro Comp, Nostalgia, St. Bike, Outlaw Street, Factory Muscle, Street Truck, and Jr. Dragster. Open testing will also be available to those seeking more track time (just register for the class you most closely align to).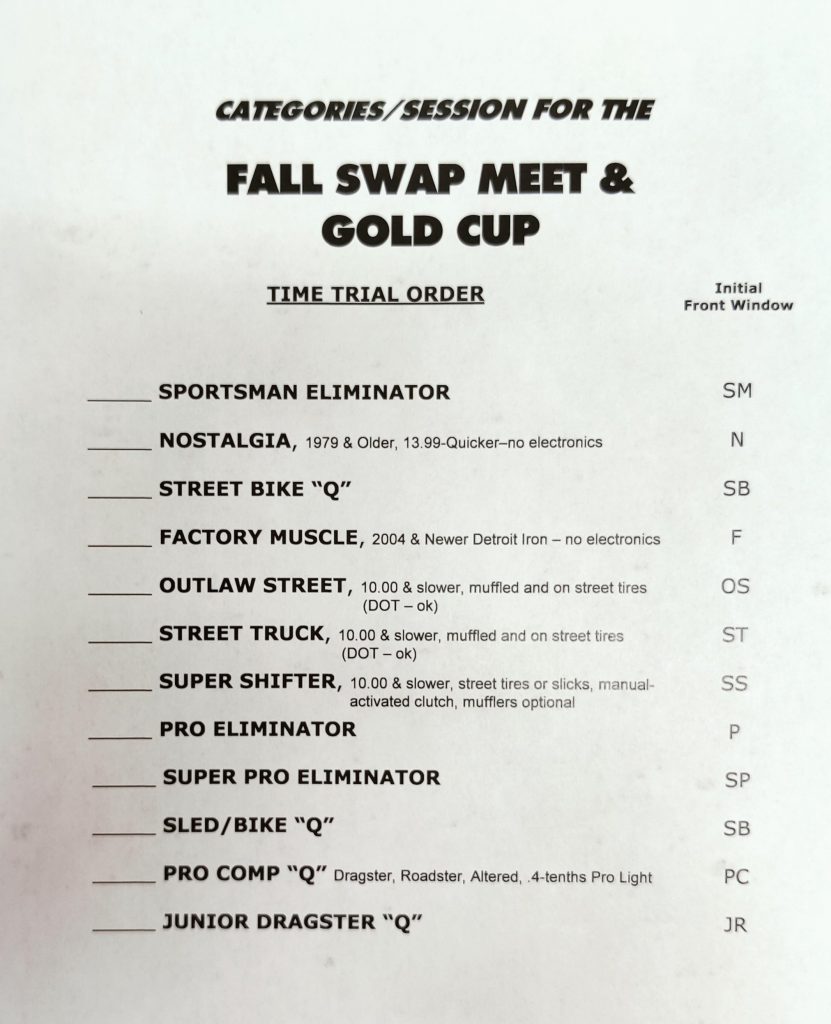 Swap meet set-up begins by noon on Fri., Sept. 24. Note: gates may open earlier pending the line-up of vendor on the Firebird entrance roadway. Vendor set-up (and racer pre-parking) will be open Friday until 7 pm.
Saturday opens for vendors and racer pit parking at 7:30 am. The Swap Meet traditionally continues throughout the afternoon until about 4 pm. The racing event will continue until around 6:30 pm.
CLASSES
Super Pro (7.00 – 11.99)
Pro (9.00-13.99)
Sportsman (12.00 and slower)
Sled/Bike (7.50 – 13.99)
Junior Dragster (5-17 year olds)
Pro Comp (Dragsters, Roadsters, Altereds)
Nostalgia (13.99 or quicker, 1979 or older)
Outlaw Street (muffled, DOT or St. Tires)
Street Bike (Street Motorcycles)
Factory Muscle (Detroit brands; 2003 & Newer)
Street Truck (open to muffled Trucks, SUV, etc.)
Super Shifter (Stick Shift)
Super Pro online tech card (full event): $165; Day of: $185
Pro online tech card (full event): $130; Day of: $150
Sled/Bike online tech card (full event): $90; Day of: $110
Sportsman online tech card (full event): $65; Day of: $75
Junior Dragster online tech card (full event): $65; Day of: $75
Pro Comp online tech card (full event): $100; Day of: $110
Street Classes (Sat. only): $35; Day of: $40
Crew Pass online (full event): $25; Day of: $30
Annual permanent number/license online card: $8; Day of: $10
10' x 20' spot: $30 ($35 day of event)
We encourage vendor registration (along with buyer, racer and crew entry fees) to be purchased online. Idaho State ST-124 form is required for all vendors. Forms will be available at check in (at front gates).
Adults: $10 in advance ($12 at gates day of event)
Senior (over 65): $9 ($11 at gates day of event)
Ages 6-12: $5
Ages 5 & under: Free
SCHEDULE
Friday, Sept. 24
Swap Set-Up, Space Assignment and Early Bird Racer Parking: Noon*
Closes: 7 pm
* note: gates may open earlier Friday should line up of trailers reach highway.
Saturday, Sept. 25
Race and Swap Meet Vendor Gates Open: 7:30 am
Swap Meet Buyer Gates Open: 9 am
Time Trials: 10 am
Eliminations: 2 pm
Swap Meet continues till: late afternoon
Drag Racing Concludes: 6:30 pm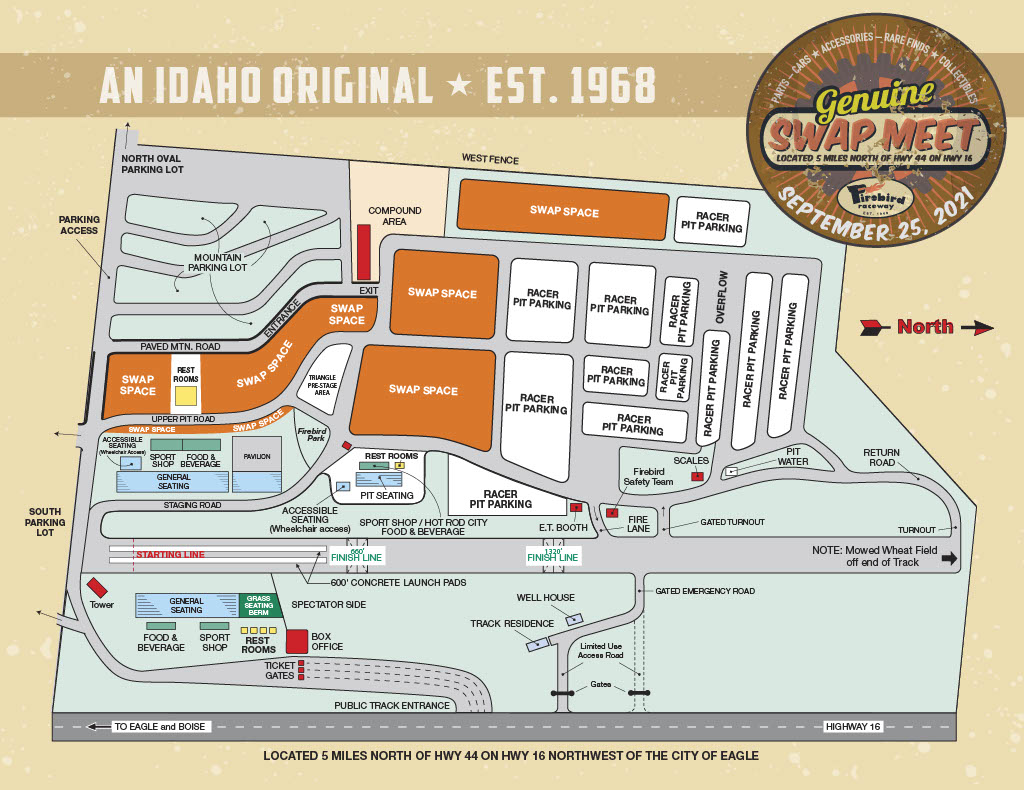 In the event of inclement weather, updates will be available on this site and on our Facebook page.
For more event information, email: [email protected]