The O'Reilly Auto Parts Boise Roadster Show returns March 10-12, 2017. Presented by Les Schwab Tires, the show takes place at Expo Idaho.
Sanctioned by the International Show Car Association, the Boise Roadster Show is a Western Division Summit Show Car Series points stop. The show annually attracts upwards of 200 competitors from throughout the United States and Canada.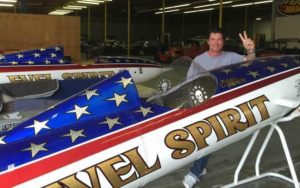 Highlighting an exciting 45th Roadster Show will be the appearance of Eddie Braun and his amazing "Evel Spirit" rocket-powered Skycycle. The professional stunt man pulled off the incredible feat last September by successfully flying over the Snake River Canyon. As most remember, it was Evel Knievel who first attempted the feat. Unfortunately the parachute deployed too early ending any hopes of crossing the canyon way back in 1974. Eddie will be on hand at the show to share his story and put his remarkable Skycycle on display at the first public showing since his historic trip across the canyon.
Just returning from an exhibition at the Essen Auto Show in Germany, Gordon Tronson will be showcasing his over-the-top 1962 Econoline truck he has appropriately called "E-Quad-O-Line". The pickup sports 4 supercharged Ford engines capable of producing well over 1,000 horsepower.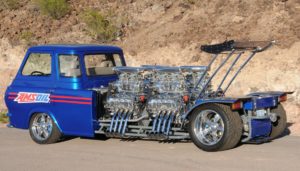 Firebird is excited to pay tribute to the track's 50th year of racing by inviting former NHRA Top Fuel World Champion Jerry "the King" Ruth to the show. The Hall of Fame racer will attend the show and display his restored 1971 Top Fuel dragster. Ruth drove the dragster to 1971 World Championship Series title at Firebird, along with sweeping the Funny Car title at the same race.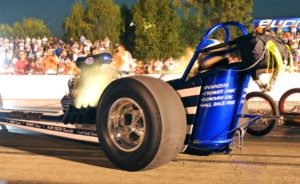 Thanks to Marvel Comics, kids will be excited to meet Spiderman on Saturday and Iron Man on Sunday of the show weekend.
Every entry that participates in the show will win an award. The top prize of the Roadster Show is the Goldmark award. This award winner will take home $1,000 in cash, embroidered jacket and special award statue. The "Essence of Cool", the Trendsetter, Wild One, Fire Rod, Mighty Fine and Tompkins are additional special awards.
A new inductee will be announced for the Master-Builder award. This plaque is presented to a new recipient every March.
Click on the hyperlink below for an official 2017 entry form. We accept all entries through the mail. Please remember to include a photos. Please provide a detailed status description should your entry still be under construction or in-progress.
Show Entry Application Form
Show Hours:
Friday Noon – 10 pm
Saturday 10 am – 10 pm
Sunday 10 am – 6 pm
Admission:
Adults: $10
6-12: $3
5 & Under: Free
Save $1 on tickets at O'Reilly Auto Parts.
Expo Idaho is located at 5610 Glenwood at the corner of Chinden Blvd. and Glenwood in Boise.
Jerry Ruth cacklefest photo provided by Marc Gewertz/NHRA from the NHRA Hot Rod Reunion.