The 49th Annual NAPA Auto Parts Ignitor returns to Firebird on May 3-5, 2019. Presented by Peterson Chevrolet, the track's oldest event is aligned with the NHRA Lucas Oil Drag Race Series. The Ignitor is the first point's race of the season in the Northwest Division.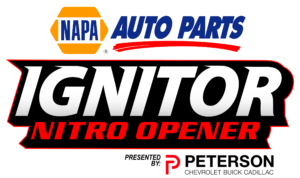 The Ignitor Opener will feature the drama and excitement of 250 mph AA/Nitro Funny Cars, along with hundreds of racers competing in the opening stop in the Division 6 Lucas Oil Drag Race Series.
The first major event of the 2019 Season is steeped in tradition and prestige. The winner of the inaugural Ignitor was none other than Don "the Snake" Prudhomme with his Hot Wheels Funny Car. Racers will be attending the event from ten western states and three Canadian provinces.
Hours & Admission
Wednesday, May 1
Pre-Entry Parking/Credential 2-6 pm*
*Gates may open earlier pending line –up on entrance road
Thursday, May 2
Gates Open: 9 am
Test `n Tune Runs: 2 pm – 6 pm
Gates Close: 7 pm
Adult Event Crew Pass: $65
Friday, May 3
Gates Open: 8 am
Qualifying and Time Trials: 9 am
Comp Qualifying: 11:15 am and 2:15 pm
AA/Nitro Funny Car Qualifying: 5 pm
Gates Close: 8 pm
Adult Event Crew Pass: $65
Spectator pit-side: $15
Child 15 & under: Free
Saturday, May 4
Gates Open: 8 am
Qualifying and Time Trials: 10 am
Comp Qualifying: 12:30 am and 4:30 pm
AA/Nitro Funny Car Qualifying: 2 pm & 5 pm
Spectator pit-side: $25
Child 15 & under: Free
Sunday, May 5
Gates Open: 8 am
Sportsman eliminations: 9 am
AA/Nitro Funny Car Eliminations: Noon
Eliminations continues throughout the day
Conclusion: 4 pm
Spectator pit-side: $25
Child 15 & under: Free
Defending Ignitor champions include:
Jeff Arend (Funny Car)
Jeff Lane (Comp)
Norm LaPointe (Super Stock)
Darrick Elam (Stock)
Craig Blaisdell (Top Dragster)
Jake Neibauer (Top Sportsman)
Justin Cooper (Super Comp)
John Dalrymple (Super Gas)
Justin Cooper (Super Street)
Rick Newport (Sportsman Motorcycle/Sled)
Juliet Barnhart (Super Pro)
Levi Burlile (Pro)
Rex Petersen (Heavy)