The NIGHTFIRE is Idaho's premiere motorsports happening!
The Nightfire returns to Firebird over three days and night, Friday-Sunday, August 7-9.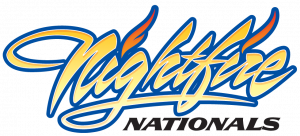 A limited number of seats will be available for this year's Nightfire, as social and physical distancing guidelines will be observed throughout the facility.
The drama and excitement of Nitro will be showcased on Friday through Sunday. Schedule of events are detailed below. Professional classes include: AA/Funny Car, AA/Fuel Dragster and AA/Fuel Altered. Plus the Nightfire will showcase the wheelstanding Stagecoach of Ed "the Outlaw" Jones and the spectacular Jet-powered Funny Car of Derek Snelson.
Learn more details on the racing program at: EVENT FLYER: SPORTSMAN-NIGHTFIRE (click on hyperlink for more info). Registration on the FOAT at: PRE-BRACKETEER-CREW ENTRY: NIGHTFIRE (link). Full event early bird pre-entry deadline  is midnight on: 7/29/2020 (post-entry: 7/30/2020). Bracketeer pre-$575, post-$625; Pro pre-$320; post-$360; Heavy pre-$210; post-$250; Sled/Bike pre-$300; post-$340; Top Fire pre-$135, post-$160;  Pro Comp pre-$135, post-$150.; Test card pre-$75, post-$95.
Classes offered include: Bracketeer, Pro, Heavy, Sled/Bike, Top Fire and Pro Comp. Racers will vie titles and prize money, along with NHRA Wally trophies to those who earn the "King of the Nightfire" at the end of the three-day weekend.
For online tickets, click on the hyperlink below:
ONLINE TICKETS NOW AVAILABLE
2020 RACING CLASSES
AA/Funny Car
AA/Fuel Dragster
AA/Fuel Altered
Lucas Oil/CMYK Grafix Top Fire
Bracketeer
Pro
Heavy
Sled/Bike
KRS/The Comfort Source Pro Comp
ADMISSION
LIMITED NUMBER OF TICKETS AVAILABLE THRU THE FOAT
Professional Team pre-entered into 2020 Nightfire:
AA/Funny Car
Jeff Arend/Don Nelson
Bobby Cottrell/Austin & O'Brien
Kris Krabill/Cecil Matthews
Tony Jurado
Billy Morris/Eddie Knox
Michael Peck
Jim Broome
Wally Giavia
Jerry Espeseth
Geoff Monise/Keith Clark
Chris Davis
AA/Fuel Dragster
Pete Wittenberg
Jim Murphy
Tyler Hilton
Dusty Green/Steve Harwood
Brett Williamson/Mike Fuller
Bryan Hall
AA/Fuel Altered
Dan Hix
Johnny West
Robert Winefsky
Tom Padilla
Randy Bradford
Shawn VanHorn
Jason Pettit
Dave Benjamin
Event Schedule:
THURSDAY
Racer Gates Open: 8 am
Testing: 11 am
Gates close: 8:30 pm
THE BLOWER SHOP FRIDAY NIGHT NITRO
Gates Open: 7:30 am
Bracket Time Trial (1): 8:30 am
Bracket Tournament Eliminations: 11 am
Lucas Oil/CMYK Grafix Top Fire Qual.: 10:30 am and 7:30 pm
Nitro Opening Qualifying: 8 pm
Concludes: 10:30 pm
SATURDAY
Gates Open: 7:30 am
Bracket Tournament Elimination: 8:30 am
Nitro Qualifying: 2 pm
Lucas Oil/CMYX Grafix Top Fire 1st Round: 7:30 pm
Final Nitro Qualifying: 8 pm
Concludes: 10:30 pm
SUNDAY
Gates Open: 7:30 am
Bracket Tournament Elimination: 8:30 am
Lucas Oil/CMYK Grafix Top Fire Eliminations: 11:30 am
Nitro Opening Round: High Noon
Nitro Semi-Finals: 2:30 pm
Nitro Final Eliminations: 4:45 pm
General Parking All Days: Free
SPORTSMAN RACER TECH CARD
TECH CARD: As a convenience to both you and Firebird's tech team, please completely fill out the .pdf form on your computer (click on hyperlink above, both sides) and print. Please bring printed copy to the event you are participating in.
AS YOU MAKE YOUR PLANS TO ATTEND AN EVENT AT FIREBIRD, PLEASE FAMILIARIZE YOURSELF WITH THE FOLLOWING PROCEDURES
Participants and attendees will be asked to comply with the following protocols:
Racers and their crew will be required to park according to social distancing guidelines, which means a 6-foot minimum space will be required between all parking spaces.
The Firebird team, which includes our staff and officials, will be encouraged to wear face coverings (and gloves where necessary). Additionally, the Firebird team will make regular use of hand sanitizer, conveniently located throughout the facility.
Participants and crew members are encouraged to utilize face coverings when away from their pit area transport/trailer.
Tech inspection will be available for the race car driver and up to one crew member per entry. Racers and crew person will be required to wear face coverings during Tech inspection. We encourage filling out our ONLINE TECH CARD at your computer and printing to bring to the track.
The Race Control Tower will be limited to essential track staff only.
All of Firebird's restrooms are equipped with hand sanitizer dispensers, soap, and hand pumice cleaner. Restrooms will be sanitized before, during and at the conclusion of the race day. Free-standing hand sanitizer dispensers are positioned in many key locations for convenient access by staff, racers and crew.
Firebird's Food & Beverage stand will follow all guidelines in place for food service businesses. A limited menu of packaged food items, along with beverages will be available. Condiments will be provided in packets, rather than self-service stations. We recommend that food and beverage orders be taken back to pit area for consumption. The lower patio area picnic tables have been moved to storage until further notice.
The Sport Shop will be open and anyone entering the Sport Shop will be required to follow social distancing guidelines, and our staff will be sanitizing surfaces.
Social distancing protocols of a minimum of 6 feet will be strictly enforced in the staging lanes and on the starting line. Congregating in groups along the staging lane fence, on the starting line or in the pita area will not be permissible. Our track staff and Firebird Safety Team will closely monitor these areas in order to prevent unauthorized gatherings.
As we have mentioned in previously (and just as a reminder), the Firebird staff and management encourage everyone to be familiar with each and every policy outlined above. We will respectfully enforce such policies for the safety, health and well being of all of our guests, crew and track staff.