The 42nd Annual Project Filter Oldies But Goodies Drags returns Sat-Sun., June 4-5. A combination of nostalgia race `n show classes will be offered, along with the  Boise Muffler Gold Cup Series presented by NAPA Auto Parts at this two-day event.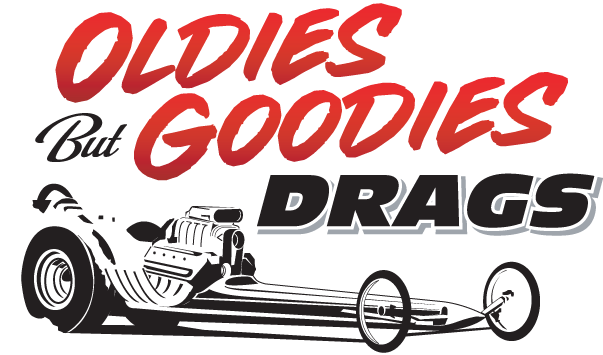 All of the core Gold Cup eliminators will be contested on both Saturday and Sunday with a complete race run each day.
Additionally, racing will be staged in a variety of nostalgia race categories (1989 or older).
Another big hit of the weekend is the annual show `n shine that will take place in Firebird's paved upper pit area. Similar to the Oldies specific race categories, the show is open to 1989 or older entries.
The Oldies Drags will feature the AA/Supercharged coupes and sedans headed up by reigning champion Scott White with his 210 mph `41 Willys coupe.
Both Saturday and Sunday will offer dedicated show `n shine parking in the paved upper pit area. A multitude of special show plaques will be awarded on both Sat. and Sun.
A forty-two year tradition at Firebird, the Oldies is annually supported by a number of host clubs the Melba Outlaws, Vintage Gems, Heap Herders, The Barons and Idaho Chariots.
RACER AND SHOW REGISTRATION
SPECTATOR ADMISSION (CAMPING)
CLASSES
AA/Supercharged Blown Alcohol Gassers
Super Pro (eighth)
Pro (9.00-13.99, quarter)
Sportsman (12.00 and slower, quarter)
Sled/Bike (13.99 or quicker, quarter)
Gasser (straight axle, old-school race cars, quarter)
Oldies Bracket #1 (pre-1989, 10.99 & Quicker, quarter)
Oldies Bracket #2 (pre-1989, 11.00 – 12.99, quarter)
Oldies Bracket #3 (pre-1989, 13.00 & Slower, quarter)
Pro Comp (.4-tenths, pro-light, handicapped, front-motor dragsters, open-wheel roadsters and altereds, funny cars, quarter)
Junior Dragster (eighth)
Super Pro-Full Event: $170 (Day of event $190)
Pro-Full Event: $130 (Day of event $150)
Sled/Bike-Full Event: $95 (Day of event $110)
Sportsman-Full Event: $70 (Day of event $80)
Pro Comp-Full Event: $100 (Day of event $120)
Oldies #1, #2, #3, or Old School Gasser-Full Event (choice): $70 (Day of event $80)
Junior Dragster-Full Event: $70 (Day of event $80)
2022 Gold Cup Points Registration: $40
Annual permanent number/license card: $10
Show `n Shine Full Event Entry: $30
Show `n Shine One-Day Entry: $15
CREW FEES
Adult Crew Full Event Credential: $30
Child (6-12) Crew Full Event Credential: $10
Adults One-Day Spectator: $15
Child One-Day Spectator: $5
Ages 5 & Under: Free
RACE SCHEDULE
Friday Parking/Tech: 3 pm – 7 pm
Friday Gates Close: 7:30 pm
Saturday Gates Open: 7:30 am
Saturday TT (2): 8:30 am – 1:45 pm
Saturday Eliminations: 2 pm
Sunday Open: 7:30 am
Sunday TT (1): 8:30 am
Sunday Eliminations: 11:30 am
Concludes : 5:30 pm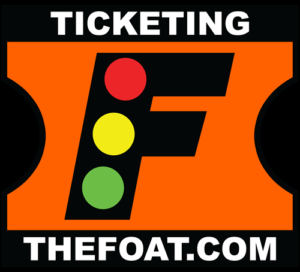 (click logo for online site)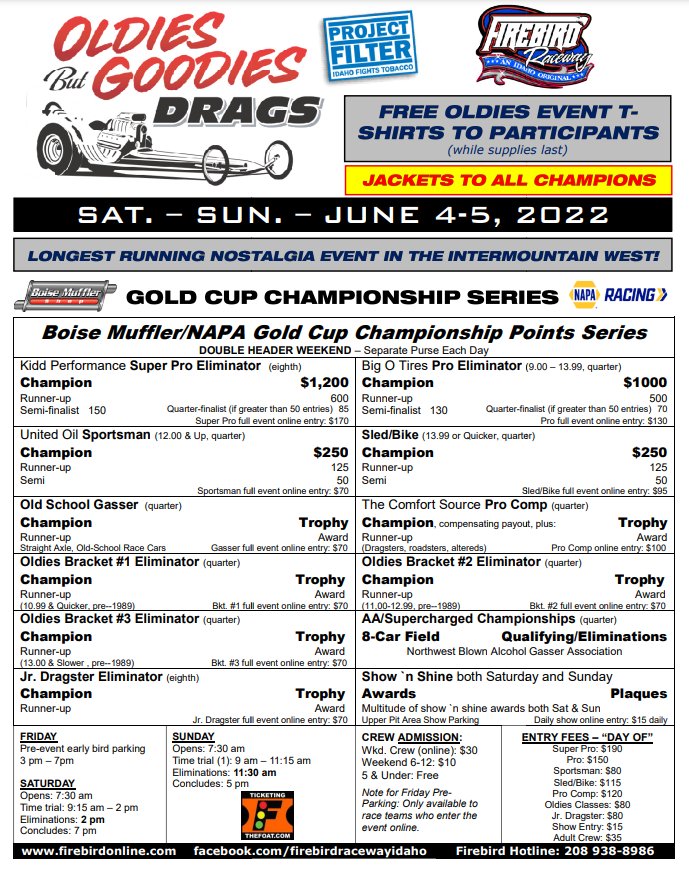 ---
REGISTER FOR GOLD CUP POINTS SERIES
---
Defending Oldies But Goodies champions:
AA/Supercharged
Scott White
Super Pro
Seth McLean/Misti Unser
Pro
Karisa Windley/Toby Halverson
Pro Comp
Shawn Callen
Sportsman
Ashley Day/Mike Ritz
Sled/Bike
Jacob Wood (2)
Old School Gasser
Nick Smith/Darwin LaFord
Oldies #1
Levi Burlile/Greg Buckert
Oldies #2
Paige Harris/Ashley Day
Oldies #3
Lonnie Jesser (2)
Junior Dragster
Colby Thomsen/Ava Olivarez
---
SPORTSMAN RACER TECH CARD
TECH CARD: As a convenience to both you and Firebird's tech team, please completely fill out the .pdf form on your computer (click on hyperlink above, both sides) and print. Please bring printed copy to this event to expedite the inspection process.
---
In the event of inclement weather, updates will be available on this site and on our Facebook page.
For more event information, email: [email protected]