The Project Filter Oldies But Goodies Drags returns Sat-Sun., June 1st-2nd. A combination of nostalgia race `n show classes will be offered, along with the  Boise Muffler Gold Cup Series at this two-day event.
All of the core Gold Cup eliminators will be contested Sunday, which includes  Super Pro, Pro, Sled/Bike and Sportsman. Additionally, racing will be staged in Pro Comp, Old School Gasser, Oldies Bracket #1, Oldies Bracket #2 and Oldies Bracket #3.
Saturday will offer a day time trials and qualifying followed up by racing Sat. late afternoon in Super Pro Gambler, No Box Gambler, Sled/Bike Gambler and Geezer Gambler (55 years of age or older).
Both Saturday and Sunday will offer dedicated show `n shine parking in the paved upper pit area. A multitude of special show plaques will be awarded on both Sat. and Sun.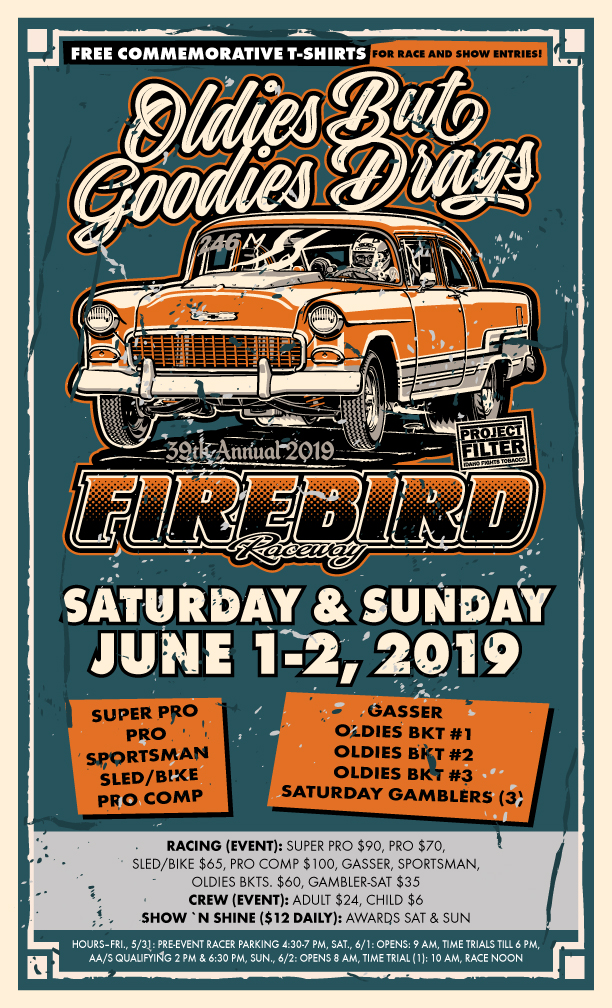 One of the extra cool things that you receive at the Oldies event is the official event t-shirt. Both Drag and Show entrants receive a shirt, which was designed by the award winning artist Ger Peters (from the Netherlands).
A thirty-nine year tradition at Firebird, the Oldies is annually supported by a number of host clubs. They include the: Melba Outlaws, Vintage Gems, Heap Herders, Barons and Idaho Chariots.
OLDIES EVENT FLYER
CLASSES
AA/Supercharged Blown Alcohol Gassers
Super Pro (11.99 or quicker)
Pro (9.00-13.99)
Sportsman (12.00 and slower)
Sled/Bike (14.99 or quicker)
Gasser (straight axle, old-school race cars)
Oldies Bracket #1 (10.99 & Quicker)
Oldies Bracket #2 (11.00 – 12.99)
Oldies Bracket #3 (13.00 & Slower)
Pro Comp (.4-tenths, pro-light, handicapped, front-motor dragsters, open-wheel roadsters and altereds)
Test `n Tune
WEEKEND RACE FEES
Super Pro: $90
Pro: $70
Sled/Bike: $65
Sportsman: $60
Pro Comp (wkd): $100
All Other Classes: $60
Sportsman (Sun. only): $40
*All Race `n Show entries will receive a commemorative event t-shirt
Annual permanent number/license card: $7
Saturday Gambler cards: $35
WEEKEND FEES
Adults: $24
Ages 6-12: $5
One-Day Adult: $12
One-Day 6-12: $6
Ages 5 & Under: Free
DAILY RACE SCHEDULE
Racer Gates Open Daily: 7:30 am
Time Trials start Saturday: 9:30 am
Time Trials start Sunday: 8:30 am
Eliminations Saturday: 4 pm
Eliminations Sunday: 11:30 am
Concludes Saturday: 7:30 pm
Concludes Sunday: 4:30 pm
SATURDAY RACER RUN SCHEDULE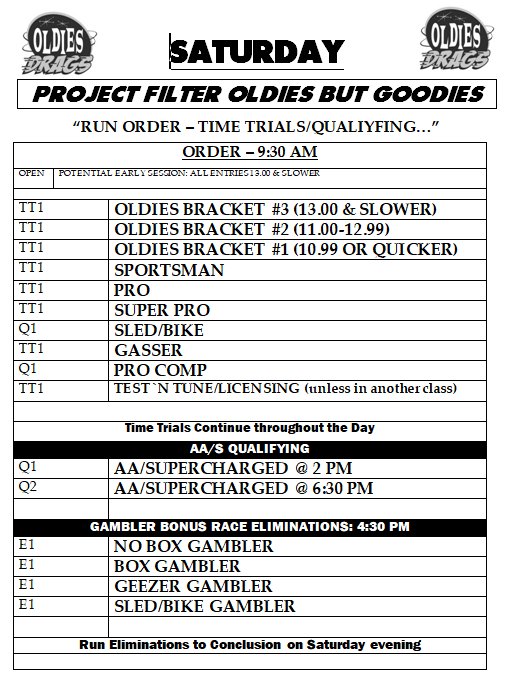 In the event of inclement weather, updates will be available on this site and on our Facebook page.