The NAPA Auto Parts Halloween Classic XXVII event returns over five days and nights on Wed. thru Sun., October 7-11, 2020.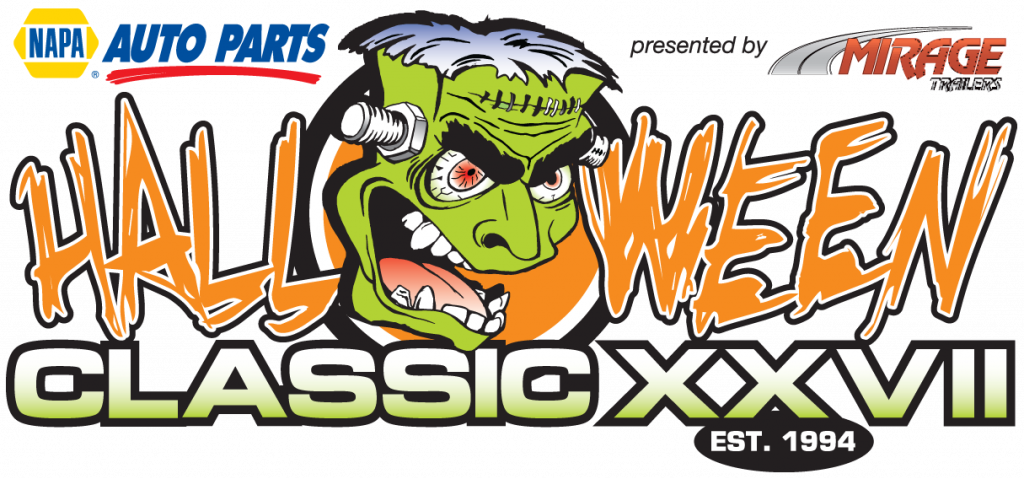 No other event all season long matches the sheer volume and quantity of racing that takes place during the last racing stop of the season. It is literally a drag racing marathon of fun.
The Club Challenge Runoffs will take place Wednesday afternoon. The wild Air Firebird Wheelstanding contest returns on Saturday evening. The event will also crown a Classic Grand Champion, which will pit the major eliminator winners at the conclusion of the event. Sunday's champions will also earn specially-created NHRA Idaho State Championship Wally trophies, too.
The Lucas Oil Top Gun Shootout returns, too. The fastest 16 open wheelers will square off with the 16 quickest full bodied rides.
Flyer is published below. If you'd like to see a larger version of it, just click on the event flyer for a .pdf file.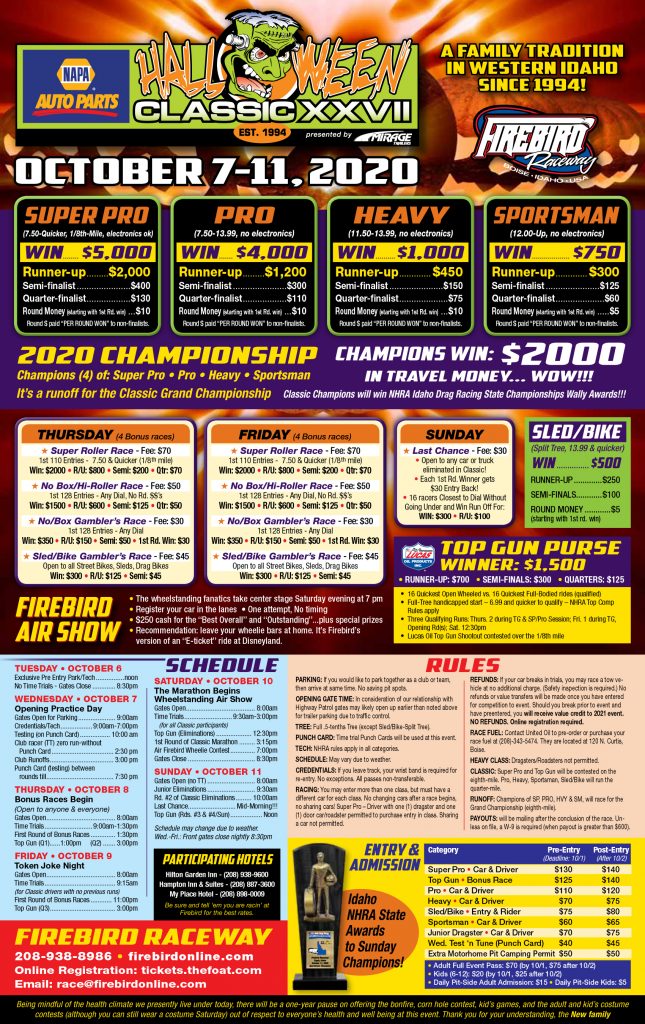 CLASSES
Super Pro
Pro
Heavy
Sled/Bike
Sportsman
Lucas Oil Top Gun Shootout
Junior Dragster
Assortment of Bonus Races
ALL RACER REGISTRATION AND TICKETING IS REQUIRED TO BE SECURED IN ADVANCE OF THE CLASSIC EVENT.
Learn more at our
online ticketing service.
Full Event Pass: $75-wrist band good for the entire event with restricted area access
Full Event Child Pass (6-12): $25
Online Adult Single Day Admission (for Sat or Sun): $15
Online Child 6-12 Single Day Admission (for Sat or Sun): $5
Extra Motorhome or Trailer Camping Permit: $50 (must secure full event pass for each person attending)
Event Schedule:
TUESDAY
Parking: Noon (please note: or earlier should trailers reach highway on entrance road)
Tech Inspection: throughout the day
Gates close for credential and parking: 7:30 pm
WEDNESDAY
Opens: 8 am
Tech Inspection: throughout the day
Test Punch Card: 10 am – 7:30 pm
Club Racer time trial (with zero runs, without punch card): 2:30 pm
Club Runoffs (racers pre-qualified during 2020 Club Challenge Series): 3 pm
Gates close for credential and parking: 7:30 pm
THURSDAY
Bonus Races Begin!
Opens: 8 am
Time Trial (1) begins at: 9 am
Bonus Race Eliminations: 12:30 pm
Bonus Races Begin!
(Order: No Box/Gambler, No Box/Hi Roller, Super Roller, Sled/Bike Gambler)
Lucas Oil Top Gun Qualifying: Q1 Noon, Q2 3 pm
Gates close for credential and parking: 7:30 pm
FRIDAY
Token Joke Day!
Opens: 8 am
Time Trials (for late arrivals): 8:30 am
(for Classic entrants with no previous runs at event only)
Bonus Race Eliminations: 9:30 am
(Order: No Box/Gambler, No Box/Hi Roller, Super Roller, Sled/Bike Gambler)
Lucas Oil Top Gun Qualifying: Q3 3 pm
Gates close for credential and parking: 7:30 pm
SATURDAY
Air Firebird Wheelstanding Night!
Opens: 8 am
Time Trials for all Racers (starting w/SM, then JT & JL, etc.): 8:30 am
Lucas Oil Top Gun First Round of Eliminations: 12:30 pm
Top Gun Second Round: 2:30 pm
Start of Classic Eliminations (Pro, Super Pro, Heavy, Sportsman): 3:15 pm
Air Firebird Wheelstanding Contest: 7:30 pm
SUNDAY
Survivor's Day!
Opens: 8 am
Eliminations continue starting with round two of Sportsman at 8:30 am
No Time Trials on Sunday—it's all racing
Junior Eliminations (2nd Day): 9:30 am
The CLASSIC Marathon (eliminations) continue: 10 am
Last Chance Race: Following conclusion of First Round of Racing
SPORTSMAN RACER TECH CARD
TECH CARD: As a convenience to both you and Firebird's tech team, please completely fill out the .pdf form on your computer (click on hyperlink above, both sides) and print. Please bring printed copy to this event to expedite the inspection process.
AS YOU MAKE YOUR PLANS TO ATTEND AN EVENT AT FIREBIRD, PLEASE FAMILIARIZE YOURSELF WITH THE FOLLOWING PROCEDURES
Participants and attendees will be asked to comply with the following protocols:
Racers and their crew will be required to park according to social distancing guidelines, which means a 6-foot minimum space will be required between all parking spaces.
The Firebird team, which includes our staff and officials, will be encouraged to wear face coverings (and gloves where necessary). Additionally, the Firebird team will make regular use of hand sanitizer, conveniently located throughout the facility.
Participants and crew members are encouraged to utilize face coverings when away from their pit area transport/trailer.
Tech inspection will be available for the race car driver and up to one crew member per entry. Racers and crew person will be required to wear face coverings during Tech inspection. We encourage filling out our ONLINE TECH CARD at your computer and printing to bring to the track.
The Race Control Tower will be limited to essential track staff only.
All of Firebird's restrooms are equipped with hand sanitizer dispensers, soap, and hand pumice cleaner. Restrooms will be sanitized before, during and at the conclusion of the race day. Free-standing hand sanitizer dispensers are positioned in many key locations for convenient access by staff, racers and crew.
Firebird's Food & Beverage stand will follow all guidelines in place for food service businesses. A limited menu of packaged food items, along with beverages will be available. Condiments will be provided in packets, rather than self-service stations. We recommend that food and beverage orders be taken back to pit area for consumption. The lower patio area picnic tables have been moved to storage until further notice.
The Sport Shop will be open and anyone entering the Sport Shop will be required to follow social distancing guidelines, and our staff will be sanitizing surfaces.
Social distancing protocols of a minimum of 6 feet will be strictly enforced in the staging lanes and on the starting line. Congregating in groups along the staging lane fence, on the starting line or in the pita area will not be permissible. Our track staff and Firebird Safety Team will closely monitor these areas in order to prevent unauthorized gatherings.
As we have mentioned in previously (and just as a reminder), the Firebird staff and management encourage everyone to be familiar with each and every policy outlined above. We will respectfully enforce such policies for the safety, health and well being of all of our guests, crew and track staff.
In the event of inclement weather, updates will be available on this site and on our Facebook page.