One thing you'll quickly notice upon entering the Firebird facility is the Souvenir Sport Shops. You will find a variety of cool t-shirts, caps, decals, sweat shirts and countless other items.
We take a lot of pride in offering quality, affordable merchandise for both the racer and fans to enjoy.
We will feature quite an assortment of shirts for our 50th year of racing. We thought it would be fun to tease you with a couple designs new for this season.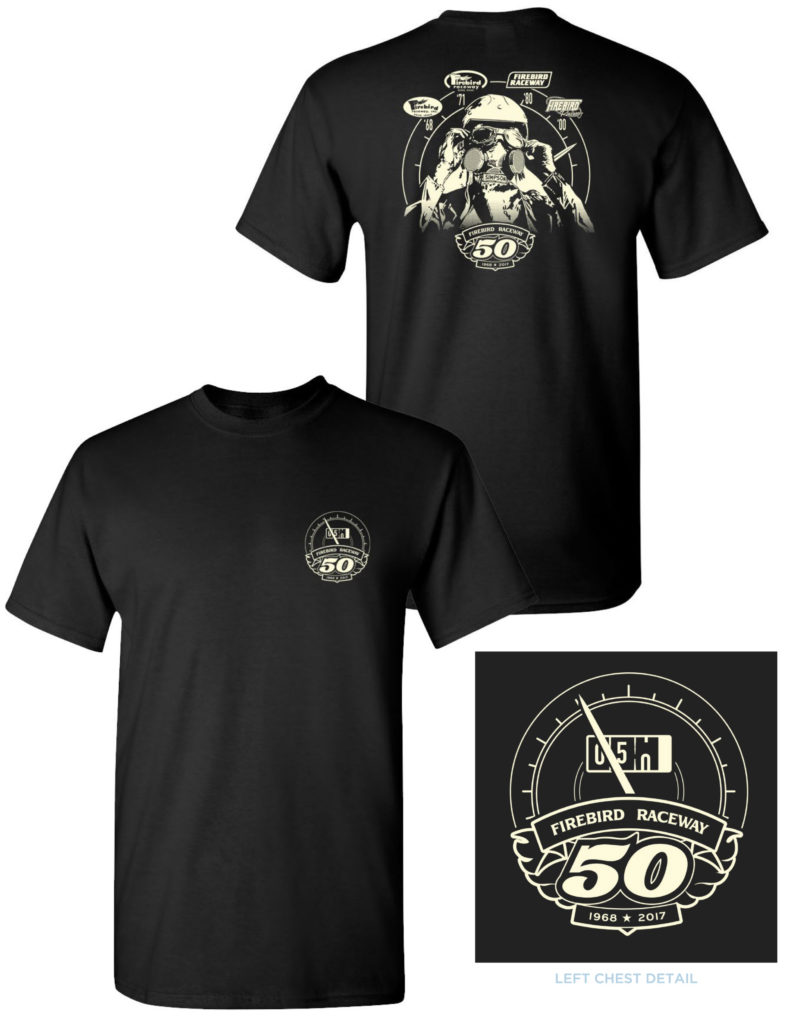 Breather Mask Design: we created this art in tribute to the breather masks from the early days of racing. We also featured all of the Firebird logos dating back to year one. The design was created by the award winning artist – Josh Eckert with MainGate. In our humble opinion, this is as cool as it gets. The shirt is offered in four different colors.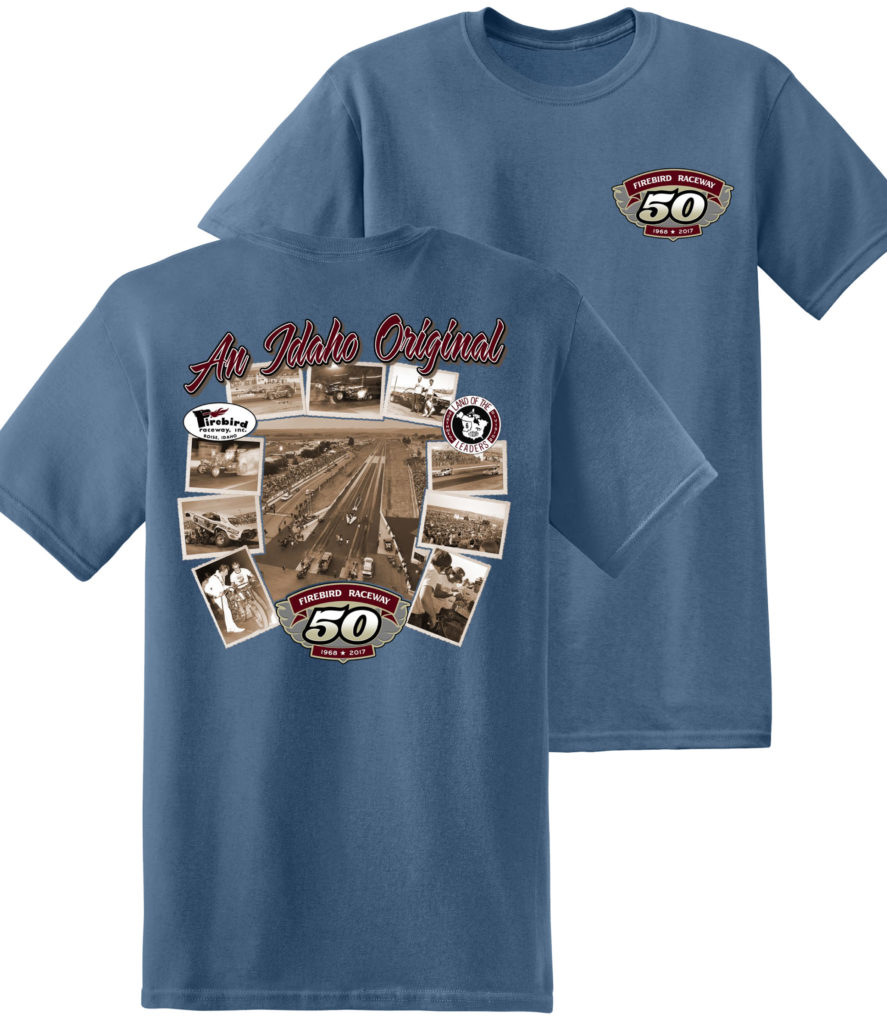 Vintage Photo Design: We took and hand-selected the most significant photos from the the early days. You'll find images from "the Snake" to "Big Daddy", Dale Pulde to Alice Cooper – it's quite a shirt. Special thanks to another veteran artist – Bob Brown from MainGate for building this amazing design. The shirt comes in four different colors to pick from. Don't wait long to get your shirt this season because they're already selling very quickly.
We also create shirts annually for the Oldies Drags, Nightfire and Halloween Classic.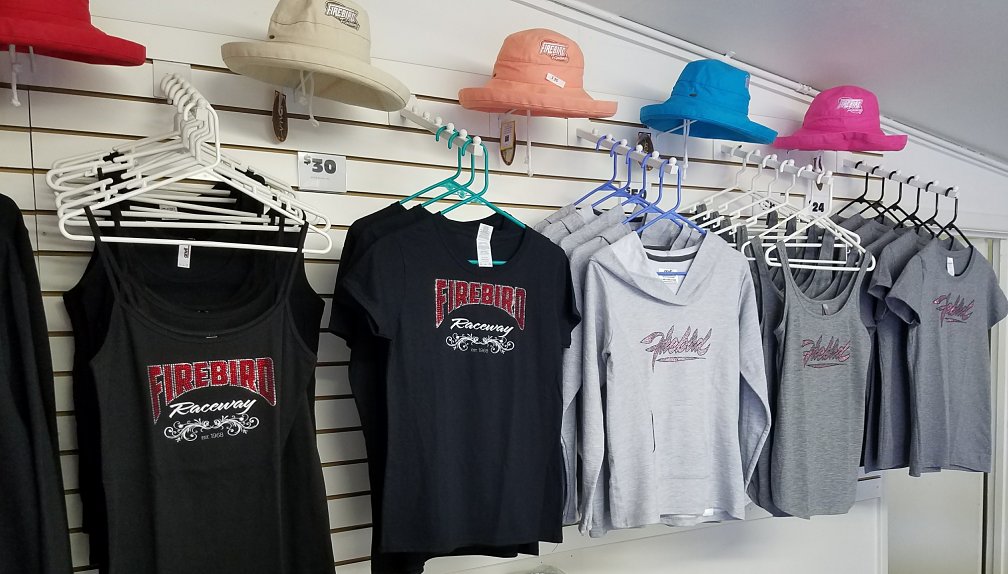 Special rhinestone wearables are available also for the ladies. Created in a limited edition run, don't wait long too capture a t-shirt, tank or hoodie sweat. These custom shirts are available in either black or ash gray in sizes S, M, LG, XL, and 2XL.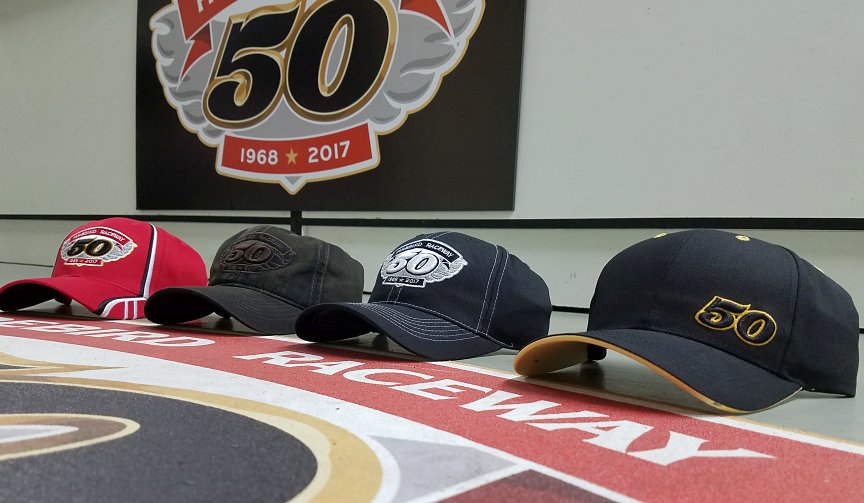 Custom embroidered caps have also been created in celebration of our 50th year of racing. They come in Red, tonal Dark Chocolate, Black and Black/Gold.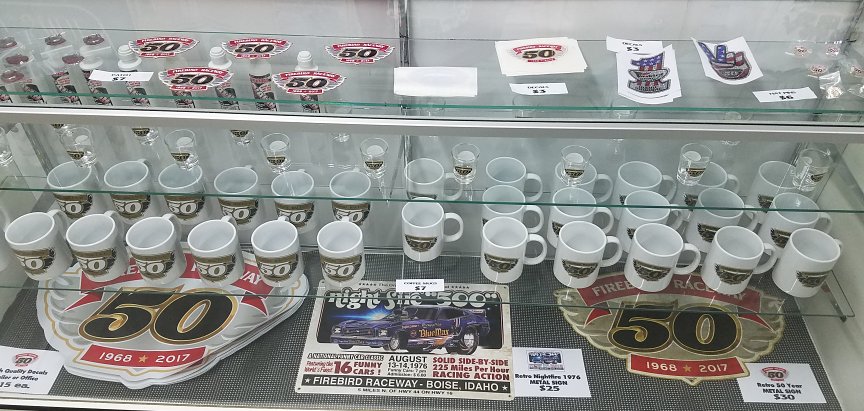 We also sell a whole variety of decals, patches, limited edition custom metal signs, straw hats, visors ear plugs, bumper stickers, sunglasses, and fridge magnets. The stores also stock suntan lotion, coffee mugs, jackets, sweat shirts, pit pass lanyards, license plates and shot glasses. Snell approved helmets are also available, along with gloves, seasonal posters, and highly collectible Hot Wheels diecast cars.
Our Sport Shops offer a great assortment of wearable from both Firebird and the National Hot Rod Association. Be sure and stop by one of the stores to check out all the latest in new merchandise for adults of all ages. You will find "Future Champion" shirts for kids, toddlers, and babies.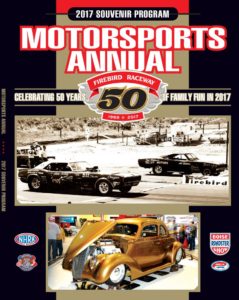 Every season we produce a Motorsports Annual, Firebird's official souvenir program featuring 132 jam-packed pages of interesting stories and superb photography. Books are available at the souvenir stores. Price: just $2.
Conveniently located, Firebird offers an ATM machine in each of the Firebird Sport Shops on the pit side of the raceway.
Perhaps you might have a birthday, anniversary or want to treat yourself, just drop us an email. If you might like to place an order for any of the items showcased above or perhaps other cool swag or merchandise in our stores, we'll be happy to help with an order. We'll process your credit card and quite often ship same day (or next) to your home or office.