Boise Muffler/NAPA Auto Parts

GOLD CUP POINTS CHAMPIONSHIP SERIES
It's easy to find the class and current point's standings. All you have to do is click on the 3 bars before CATEGORIES, above right, and an accordion menu displays all classes. Click on the category you are looking for and this will open up the current standings.
GOLD CUP RACING dates back to 1971 when Firebird awarded Track Championships for the very first time. Fast forward five decades and we positively thrilled to offering an exciting line-up of events for 2021. Firebird offers points racing in Super Pro, Pro, Sled/Bike & Sportsman, in addition to the Jr. Dragster and Jr. Street divisions. We'd like to pass along our appreciation to Boise Muffler and NAPA Auto Parts for their alliance with the Season Championship point's chase.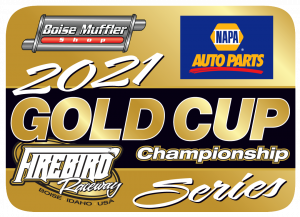 Please note, all racers in the Summit Series (Super Pro, Pro, Sportsman, Sled/Bike, Jr. Dragster and Jr. Street) will need to register for points in the 2021 Gold Cup Series. Also, to compete in the series, you will need to stop by Sport Shop for two contingency decals from our friends at Boise Muffler (and apply to both sides of your car).
At the same time, special thanks goes out to eliminator sponsors: Kidd Performance & Dyno-Super Pro, Big O Tires Pro, United Oil-Sportsman and High Desert Moto Plex-Sled/Bike for aligning to the Firebird Gold Cup racing scene.
Furthermore, championships will be contested this season in Idaho Army Nat'l Guard High School, Jr. Dragster, Jr. Street, the Economy Transmission Alumni, Fairly Reliable Bob's Club Challenge, Carl's Cycle Sales Street Bike, Capitol City Transmission Nostalgia, Moffitt & Bratton Outlaw Street, Wayne's Transmissions Street Truck, Rich's Auto Care & Dyno Super Shifter, and Factory Muscle eliminators. Additionally, we would like to thank both Kenny's Rod Shop and The Comfort Source for endorsing the Pro Comp point's series.
Good luck to everyone who desires to pursue a Firebird track championship this season—from your friends in racing,
The NEW CREW and FIREBIRD STAFF