GIFT IDEA: Gift Certificates Available Today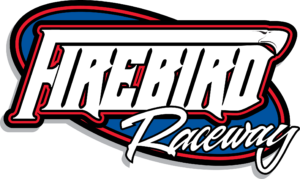 Here's an idea you might consider for that special person in your life. Maybe it's your husband, your wife, your son or father, here's something you might surprise them with from your friends at Firebird and the Roadster Show . If you've been searching and searching, how about a gift certificate good for any event during our 2018 motorsport's calendar.
Gift Certificates are available for $25, $50, $75 or $100. Better yet, we pay for postage and there isn't a service fee on gift certificates. Just give us a call and we will mail you the certificate the same day it is ordered. Credit cards accepted.
These certificates can be used for spectator pit-side admission, race entry, crew pass, merchandise in the souvenir Sport Shop or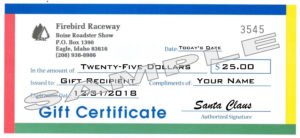 even the Food & Beverage stands. You can also use these certificates can for admission for the Boise Roadster Show, March 9-11, 2018, at Expo Idaho.
You're welcome to purchase one or buy in multiples for different members of your family.
Call today: 208 938-8986 or drop us an email at [email protected]
MORE FUN GIFT IDEAS
Happy holidays from all of us in the New Crew