100 MPH Club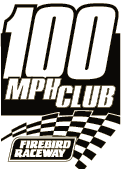 Racers can qualify for the 100 MPH Club during specially selected Open Test Days and High School/Alumni Street Legal events.
The season will culminate with the 100 MPH King Kong Runoffs in September. Three different categories will be compiled this year, including Street Machine, Street Bike and Sport Compact.
Good luck to everyone trying to join the 100 MPH Club or attempting to climb to new heights this season!
For more Information on this club contact Firebird at (208) 938-8986.
| DRIVER | YEAR & MAKE | ENGINE SIZE | MPH |
| --- | --- | --- | --- |
| John Voss | 99 Mustang | 388 ci | 172.92 |
| Todd Porter | 89 S-10 | 412 ci | 148.69 |
| Ryan Saki | 68 Camaro | 565 ci | 144.63 |
| Mike Eagy | 67 F100 | 460 ci | 144.57 |
| Marcia Randall | 70 Camaro | 503 ci | 132.33 |
| Pamela Lottman | 67 Firebird | 540 ci | 130.91 |
| Glen Watts | 59 Studebaker | 421 ci | 130.77 |
| Angel Santana | 99 Corvette | 390 ci | 130.71 |
| Bobby Barrett | 72 Nova | 509 ci | 130.51 |
| Eric Hessing | 06 Corvette | 427 ci | 127.85 |
| Tyson York | 03 Mustang | 4.6 L | 127.4 |
| Jamus Franks | 79 Mazda | 350 ci | 127.08 |
| Mike Schroeder | 07 GT 500 | 500 ci | 126.81 |
| Bryan Koehler | 11 Mustang | 5.0 L | 126.13 |
| Erik Hessler | 06 Corvette | 427 ci | 125.22 |
| Derrik Greenhalgh | 71 Demon | 499 ci | 125.13 |
| Bryan Kuehler | 11 Mustang GT | 5.0 L | 124.76 |
| Jaymes Buchanan | 09 Challenger | 345 ci | 123.98 |
| Noel Burkovsky | 83 Camaro | 383 ci | 122.87 |
| Terry Hall | 68 Valiant | 440 ci | 122.56 |
| Todd Jones | 06 Corvette | 7.0 L | 122.43 |
| Frank Wilson | 71 Duster | 440 ci | 122.34 |
| Phyllis May | 72 Vega | 397 ci | 120.92 |
| George Lindford | 08 Z06 | 6.0 L | 120.78 |
| Ron Vance | 89 Mustang | 5.0 L | 120.7 |
| Cory Alberts | 04 GTO | 5.7 L | 120.64 |
| Tracey Alberts | 72 Vega | 350 ci | 120.6 |
| Raul Barron | 06 Corvette | 7.0 L | 120.6 |
| Brock Holmes | 07 Shelby | 331 ci | 120.38 |
| Mitch Page | 79 Malibu | 383 ci | 120.37 |
| Ed May | 55 Chevy | 505 ci | 120.22 |
| Ed May | 55 Chevy | 454 ci | 120.08 |
| Brandon Little | 00 Silverado | 6.0 L | 120 |
| Scott Rowland | 89 Mustang | 331 ci | 119.61 |
| Sharlene Lancaster | 31 Ford | 383 ci | 119.44 |
| Paul Hirt | 03 Corvette | 364 ci | 119.08 |
| Linda Rowland | 65 Cutlass | 455 ci | 118.92 |
| John Stamper | 94 Mustang | 6.8 L | 118.83 |
| Noel Burkovsky | 83 Camaro | 383 ci | 118.7 |
| Ryan DuBois | 04 Dodge Ram | 5.9 L | 118.48 |
| Arlan Delvalle | 09 Corvette | 427 ci | 118.34 |
| Tim Maiden | 64 Falcon | 408 ci | 117.22 |
| Luis Torres | 14 Mustang | 5.0 L | 117.21 |
| Mike Toal | 14 Shelby | 520 ci | 116.93 |
| Mike Ritz | 14 Vette | 376 ci | 116.76 |
| Debbie Phillips | 77 Nova | 406 ci | 116.34 |
| Mark Young | 56 Chevy | 383 ci | 116.23 |
| Roger Petty | 69 Dodge Dart | 408 ci | 115.58 |
| Raul Barron | 06 Corvette | 7.0 L | 115.5 |
| Rod Mills | 86 Monte Carlo | 454 ci | 115.43 |
| Ron Liese | 67 442 | 400 ci | 115.17 |
| Jim Bennett | 76 Dodge D100 | 383 ci | 115.06 |
| Davd Maiden | 68 Cougar | 473 ci | 115.02 |
| Margaret Smith | 11 Mustang | 5.0 L | 114.59 |
| Brian Connelly | 16 Camaro | 350 ci | 113.73 |
| Troy McDonald | 15 Mustang | 5.0 L | 113.40 |
| Jose Medina | 89 Mustang | 5.0 L | 112.77 |
| Cody Neal | 99 Camaro | LS-1 | 112.17 |
| Matt Roderick | 64 Pontiac | 468 ci | 112.1 |
| Curtis Hopper | 12 Challenger | 6.4 L | 112 |
| Glen Lappin | 66 Coronet | 440 ci | 111.81 |
| Luke Neiwert | 11 Mustang | 5.0 L | 111.8 |
| Tim Douglas | 70 Skylark | 455 ci | 111.8 |
| Jim Shadwick | 74 Gremlin | 401 ci | 111.65 |
| Carole Bull | 16 Challenger | 6.2 L | 111.36 |
| Jeremy Wanders | 05 Chevy Duramax | 6.6 L | 111.15 |
| Charles Woods | 14 Mustang | 5.0 L | 111.12 |
| Joe Perry | 13 Challenger | 6.4 L | 111.03 |
| Dan Hurlbert | 90 Mustang | 393 ci | 111.01 |
| Stacey Altig | 16 Mustang | 5.2 L | 110.91 |
| Pat Lang | 65 Satellite | 440 ci | 110.9 |
| Tyler Rush | 78 Firebird | 400 L | 110.84 |
| Frank Wilson | 04 Ram 240 | 6.0 L | 110.73 |
| Pat Laug | 65 Satellite | 440 ci | 110.65 |
| William Hood | 93 Mustang | 350 ci | 110.63 |
| Joseph Stephen | 15 Mustang | 5.0 L | 110.63 |
| Jamie Martinez | 94 Mustang | 5.7 L | 110.62 |
| David Martin | 03 GMC Duramax | 6.6 L | 110.61 |
| Jonathan Post | 13 Mustang | 5.0 L | 110.56 |
| Eric Corbeil | 68 Chevelle | 454 ci | 110.4 |
| Clyde Hughes | 67 Plymouth | 440 ci | 110.28 |
| Jasper De Guzman | 98 Firebird | 5.7 L | 110.27 |
| Travis Sterling | 71 Vega | 383 ci | 110.16 |
| Chad Fouria | 68 F-100 | 429 ci | 110.05 |
| Walter Wyatt | 14 Mustang | 5.0 L | 109.74 |
| Justin Cirelli | 70 Mustang | 408 ci | 109.62 |
| Admir Cjenvic | 16 Mustang GT | 5.0 L | 109.42 |
| James Lilly | 14 Mustang | 5.0 L | 108.98 |
| Janet Nefzger | 69 Nova | 377 ci | 108.8 |
| Mat Roy | 11 Mustang GT | 5.0 L | 108.8 |
| Tommy Bobadilla | 14 Mustang | 4.6 L | 108.75 |
| George Wardle | 04 Mustang | 4.6 L | 108.66 |
| Corey Scrima | 67 Mustang | 302 ci | 108.64 |
| Todd Adamson | 01 Z06 | 5.7 L | 108.44 |
| Jasper DeGuzman | 98 Firebird | 346 ci | 107.91 |
| Patsy Lindbloom | 71 Malibu | 355 ci | 107.44 |
| John Boyd | 72 Chevy | 357 ci | 107.25 |
| Gary Ruschman | 77 Camaro | 383 ci | 107.24 |
| Kristi Reedy | 08 Challenger | 6.1 L | 106.93 |
| Mark Moore | 70 Chevelle | 496 ci | 106.64 |
| Jasper Deguzman | 02 Camaro | 5.7 L | 106.6 |
| Gary Resinkin | 69 El Camino | 454 ci | 106.4 |
| Blake Boston | 07 Magnum | 6.1 L | 106.16 |
| George Wardle | 01 Mustang | 4.6 L | 105.96 |
| Bill Belau | 73 Scamp | 360 ci | 105.38 |
| Luana Skibiel | 79 Mustang | 5.0 L | 105.32 |
| Becky Jumonville | 13 Camaro | 350 ci | 105.29 |
| Tom Mcknight | 66 Nova | 406 ci | 105.11 |
| Fuzzy Sterling | 70 Camaro | 383 ci | 105.06 |
| Carl Austin | 01 Corvette | 5.7 L | 104.84 |
| Tyler Nebeker | 77 C-10 | 350 ci | 104.46 |
| John Goddard | 01 Corvette | 5.7 L | 104.08 |
| Brandon Levarge | 88 Firebird | 350 ci | 104 |
| Dave Austin | 65 Buick | 455 ci | 103.73 |
| Bobby Scroggins | 58 Plymouth | 440 ci | 103.71 |
| Janet Barrett | 70 Maverick | 302 ci | 103.67 |
| Steve Wingert | 64 Chevelle | 350 ci | 103.5 |
| Mike Thomas | 68 GTO | 466 ci | 103.36 |
| Troy Jolley | 73 Plymouth | 505 ci | 103.32 |
| Cody Demarest | 12 Camaro | 6.2 L | 103.17 |
| Michael Whittington | 15 MK7 GTI | 2.0 L | 103.06 |
| Leann Day | 06 Corvette | 350 ci | 103 |
| Erik Yeager | 92 Mustang | 5.0 L | 102.96 |
| Steve Shideler | 05 Mustang | 4.6 L | 102.91 |
| Mary Liese | 71 Formula | 350 ci | 102.81 |
| Ron Vance | 99 Mustang | 4.6 L | 102.62 |
| Bruce Glascock | 58 Ford | 429 ci | 102.48 |
| Randy Howell | 66 Nova | 406 ci | 102.34 |
| Tessa Lancaster | 66 El Camino | 454 ci | 102.31 |
| Riley Stark | 01 Camaro | 5.7 L | 102.07 |
| Joseph Mackey | 09 Challenger | 5.7 L | 102.04 |
| Rich Moore | 77 Chevelle | 383 ci | 101.95 |
| Bryne Bowins | 70 Camaro | 350 ci | 101.94 |
| Brandon Morris | 06 Pontiac GTO | 6.0 L | 101.64 |
| Earl McCollough | 82 Camaro | 350 ci | 101.63 |
| Taylor Hoff | 14 Mustang | 3.7 L | 101.6 |
| Travis Pierson | 74 Mercury Comet | 302 ci | 101.53 |
| Josiah Schmoe | 74 Corvette | 454 ci | 101.38 |
| Dave Wylson | 06 Chrysler | 300 ci | 101.34 |
| Victor Sanchez | 05 CTX-V | 5.7 L | 101.19 |
| Rene Coddens | 99 Camaro | 5.3 L | 101.06 |
| Brad Bohning | 02 Trans Am | 350 ci | 101.05 |
| Jeff Reid | 07 Jeep SRT | 6.1 L | 100.66 |
| Brent Blake | 73 Chevy | 350 ci | 100.59 |
| Lee Zimmerman | 95 Camaro | 5.7 L | 100.25 |
| Scott Damiani | 10 Taurus | 3.5 L | 100.17 |
| Joshua Sabatino | 10 Mustang GT | 4.6 L | 100.14 |
| Beki Junonville | 13 Camaro | 350 ci | 100 |
| | | | |
| Street Bike Qualifiers | | | |
| | | | |
| Rider | Year & Make | Engine size | MPH |
| Liz Micheletty | 12 ZX10 | 1000 cc | 152.93 |
| Chad Doty | 00 Hayabusa | 1300 cc | 152.35 |
| Dale Wiese | 05 Hayabusa | 1300 cc | 145.17 |
| Whitney Carlson | 12 Kawasaki | 1400 cc | 144.12 |
| Jerry Adams | 13 Kawasaki | 1441 cc | 144.03 |
| Blake Hessing | 05 Yamaha | 999 cc | 132.35 |
| Robert Ballard | 03 Yamaha | 600 cc | 116.25 |
| Kevin Hutto | 06 Suzuki | 750 cc | 110.2 |
| Brian Wilkening | 83 Honda | 1100 cc | 110.03 |
| John Lindsay | 82 Honda | 600 cc | 100.6 |
| | | | |
| Sport Compact Qualifiers | | | |
| | | | |
| Driver | Year & Make | Engine size | MPH |
| Lee Loder | 94 Civic | 2.4 L | 158.37 |
| Tyler Fuentes | 91 Mitusubishi | 2.0 L | 134.24 |
| Don Rowsland | 94 Civic | 2.0 L | 130.83 |
| Jeremy Brown | 09 Nissan | 3.8 L | 130.81 |
| Alberto Juarez | 04 EVO | 2.0 L | 130.08 |
| Ray Rico | 95 Talon | 2.0 L | 128.05 |
| Mark Boisvert | 03 EVO | 2.0 L | 127.28 |
| Robert Jesse | 94 Civic | 1.6 L | 126.92 |
| Echs Topic | 05 EVO | 2.0 L | 126.23 |
| Juan Escobedo | 93 Mazda | 3.0 L | 124.64 |
| Alex Hribik | 10 GTR | 3.8 L | 123.52 |
| Wesley Trent | 97 Eclipse | 2.0 L | 120.6 |
| Josh Gamboni | 11 335 IS | 2.0 L | 120.52 |
| Jesse Grancia | 94 Civic | 1.8 L | 120.41 |
| Nick Hessing | 98 Supra | 3.0 L | 118.35 |
| Marisa Allen | 10 Speed 3 | 2.3 L | 117.47 |
| Cody Allington | 06 Speed 3 | 2.3 L | 117.47 |
| Emanual Rosiles | 04 EVO | 2.0 L | 117.34 |
| Weston Rynestall | 99 Civic | 1.6 L | 113.37 |
| Jacob Earl | 07 Mazda | 2.3 L | 113.31 |
| Seth Curtiss | 08 BMW | 3.0 L | 112.44 |
| Zach Sams | 05 Neon | 2.4 L | 111.69 |
| Stephanie Meimann | 97 Mercedes | 6.0 L | 111.57 |
| Tom Harris | 08 Speed 3 | 2.3 L | 111.47 |
| Tanner Valvold | 95 Neon | 2.0 L | 111.04 |
| Brent Downing | 95 Acura | 1.8 L | 110.2 |
| Anthony Pardo | 08 Speed 3 | 2.3 L | 110.03 |
| Taylor Galloway | 15 Audi S4 | 3.0 L | 109.79 |
| Jason Brown | 10 WRX | 2.5 L | 108.52 |
| Nathaniel Rice | 00 BMW | 4.4 L | 107.24 |
| Kris Kosmann | 11 BMW | 4.4 L | 106.46 |
| Matt Taniguchi | 10 Subaru WRX | 2.5 L | 105.79 |
| Andrew Kilgore | 95 Impreza | 2.0 L | 105.71 |
| Austin Crowson | 08 Speed 3 | 2.3 L | 104.57 |
| Lucas Haaker | 11 Speed 3 | 2.3 L | 104.48 |
| Chris Mower | 08 Speed 3 | 2.3 L | 104.36 |
| Pam Zollinger | 04 Nissan | 3.5 L | 104.15 |
| Rafeal Silva | 08 Subaru | 2.5 L | 104.1 |
| Raul Barron | 07 350Z | 3.5 L | 103.73 |
| Keith Eggert | 13 Mazda 3 | 3.5 L | 103.53 |
| Fabian Tripon | 11 BMW | 3.0 L | 103.14 |
| Darrell McVey | 70 Datsun pickup | 2.0 L | 102.3 |
| Ryan Duncan | 14 Focus | 2.0 L | 102.24 |
| Jesse Steinebach | 99 Saab | 2.3 L | 102.21 |
| Hector Corvera | 95 Integra | 2.0 L | 102 |
| David Meimann | 93 Mercedes | 5.0 L | 101.68 |
| Dakota Walling | 04 PT Cruiser | 2.4 L | 101.51 |
| Nic Schach | 05 WRX | 2.0 L | 101.47 |
| M. Johnathan Rios | 15 370-Z | 3.7 L | 101.35 |
| Cody Carpenter | 08 Mazda Speed 3 | 2.3 L | 101.29 |
| Lee Diaz | 97 Civic | 939 cc | 101.13 |
| Jose Valle | 95 Civic | 2.0 L | 101 |
| Fernando Flores | 07 Mazda | 2.3 L | 100.94 |
| Rafael Silva | 08 STI | 2.5 L | 100.74 |
| Ken Lissman | 05 Subaru | 2.5 L | 100.61 |
| Lucas Wilson | 08 Speed 3 | 2.3 L | 100.52 |
| Vitaliy Zarernhha | 89 Cressida | 2.5 L | 100.52 |
| Steven Sosa | 04 BMW | 3.2 L | 100.51 |
| Cody Lile | 08 Forester XT | 2.5 L | 100.5 |
| Antonio Duran | 07 350Z | 3.5 | 100.44 |
| Jason Atwell | 09 Mazda | 2.3 L | 100.43 |
| Jonathan Torres | 15 WRX STI | 2.0 L | 100.35 |
| Gabriel Hon | 04 Neon | 2.4 L | 100.24 |
| Aaron King | 94 Civic | 1.5 L | 100.23 |
| Markus Beltran | 05 SRT4 | 2.4 L | 100.14 |
| Zach Michaelson | 07 Mazda Speed 3 | 2.3 L | 100.13 |